Report of the APRSAF/SAFE Workshop in Thailand
< Last Update: Jul. 23, 2018 >
The APRSAF/SAFE Workshop was held at GISTDA-Space Krenovation Park (SKP) in Chon Buri, Thailand on July 5 and 6, 2018. It was co-organized by Geo-Informatics and Space Technology Development Agency (GISTDA) and the Japan Aerospace Exploration Agency (JAXA). The status of one on-going prototype and two follow-up activities was reported, along with one final results of prototype. Around 50 people from 8 countries (Cambodia, India, Indonesia, Japan, Malaysia, Myanmar, Thailand and Vietnam) and 3 regional organizations, including the UNESCAP and ADB, participated in this meeting.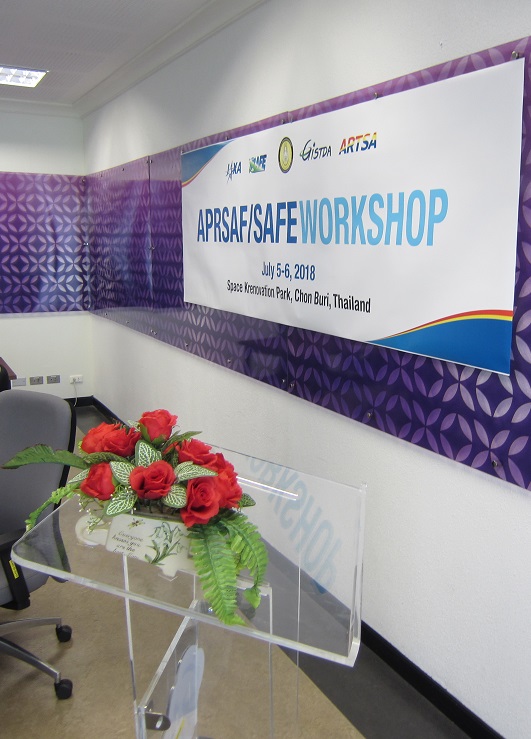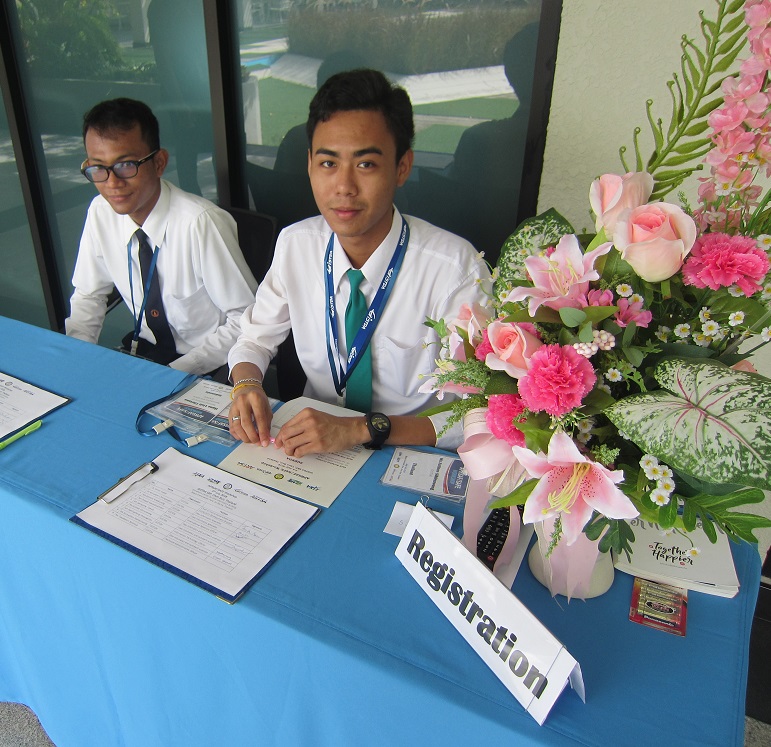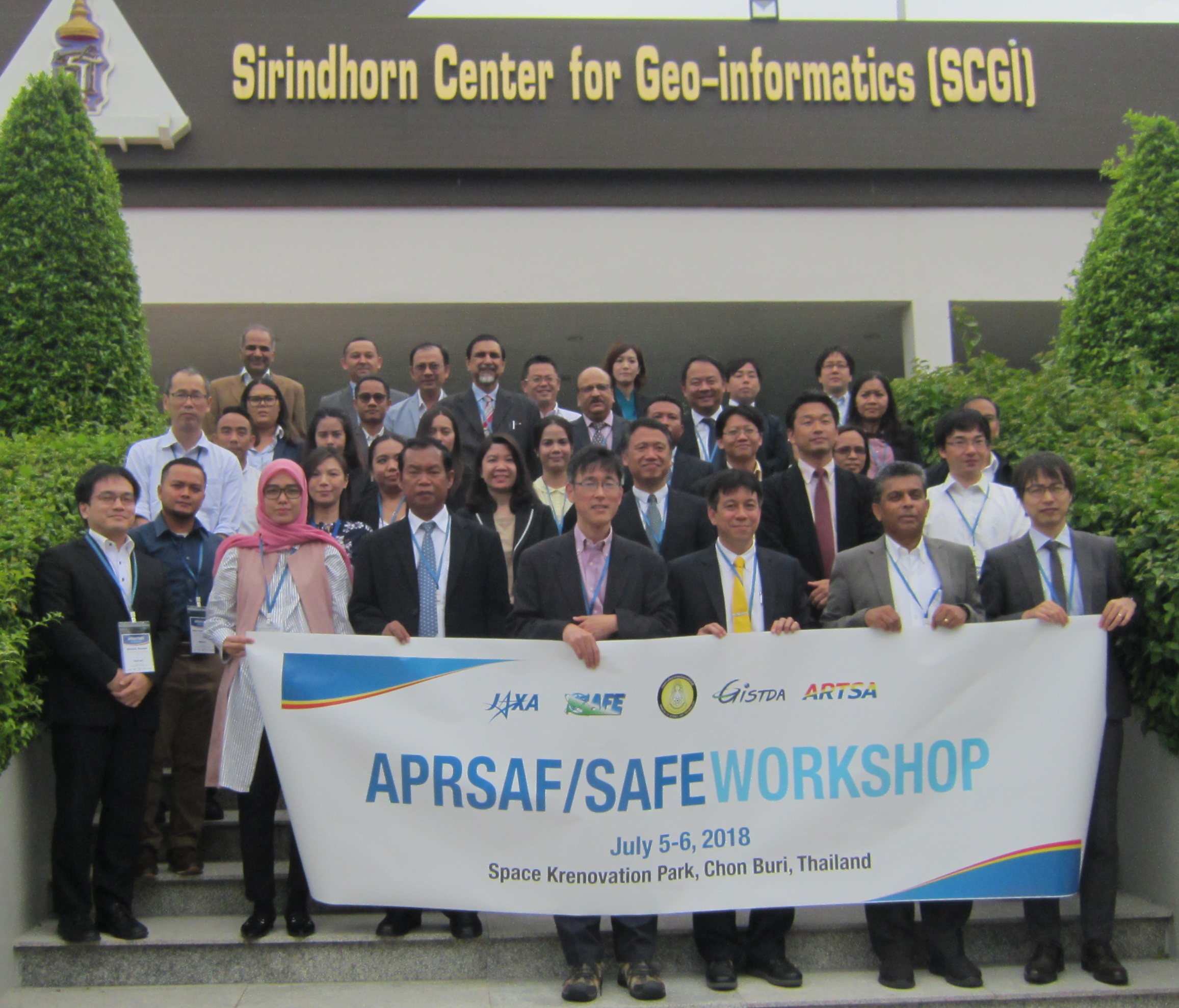 The SAFE meeting was led by co-chairs, Dr. Shinichi Sobue and Dr. Lal Samarakoon, JAXA. First of all, Mr. Tatiya Chuentragun, Director of Geo-informatic Products Office of GISTDA made welcome address. He mentioned that technology exchange and human capacity building are quite important in the region. Further he mentioned GISTDA would contribute SAFE initiative with especially use of ASEAN Research and Training Center for Space Technology and Applications (ARTSA) of GISTDA.
As the first session of the agenda, Mr. Kohei Kawamura, Earth Observation Research Center (EORC), JAXA (SAFE Secretariat) reported the results of the SAFE Workshop held as part of the APRSAF-24 in Bengaluru, India. Then one progress report of on-going prototyping 'Smoke haze monitoring in Indonesia' was made by LAPAN, Indonesia. The participants confirmed steady progress in hotspot detection using MODIS and Himawari-8 in the prototyping and some recommendations or suggestions were made to solve the remaining technical issues. Following the progress report, one final report 'Promote a DALMS system through using Innovative rice crop area mapping and yield monitoring with space based technologies' was presented by DALMS, Myanmar. Completion of the final training and stakeholder meeting were confirmed. Extra validation works by DALMS are expected in the next step to operational use.
Also, two follow-up projects were reported. As for the prototyping of 'Promote rice planted area and production estimation using space based technologies' (MAFF, Cambodia), the participants confirmed successful completion of stakeholder meeting and agreed to accept follow-up activities for comprehensive evaluation of the operational validation framework in the other areas. Regarding the prototyping of 'Efficient Oil Palm Management Prototyping Using 3D GIS' (FGVRD, Malaysia), the progress in activities for operational use was confirmed.
After reports from prototype projects, some directions for SAFE evolution were discussed. Prior to this session, the SAFE TOR writing team discussed on rough ideas for SAFE evolution on 5 July. The participants shared the ideas and confirmed multi-lateral prototyping scheme with the examples for Agro-Met Drought and Rice crop monitoring. Further work toward TOR revision will be conducted for its adoption in APRSAF-25 at Singapore.
The final session of the workshop was ASEAN/Regional Cooperation Session. In this session, activities in ASEAN region by many organizations like GISTDA, ISRO, VNSC, HAII, DNP, Kasetsart University, UNESCAP, ADPC, RESTEC and ADB were presented. These activities are possibly able to collaborate with SAFE initiative.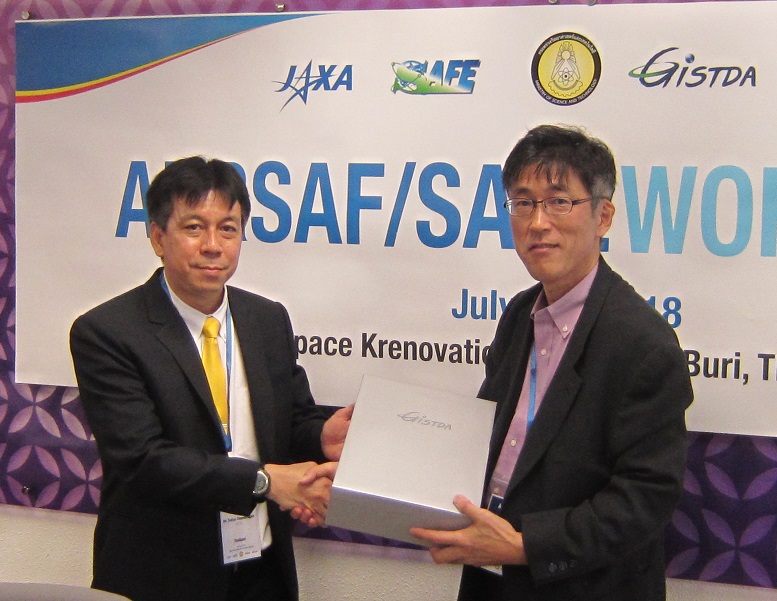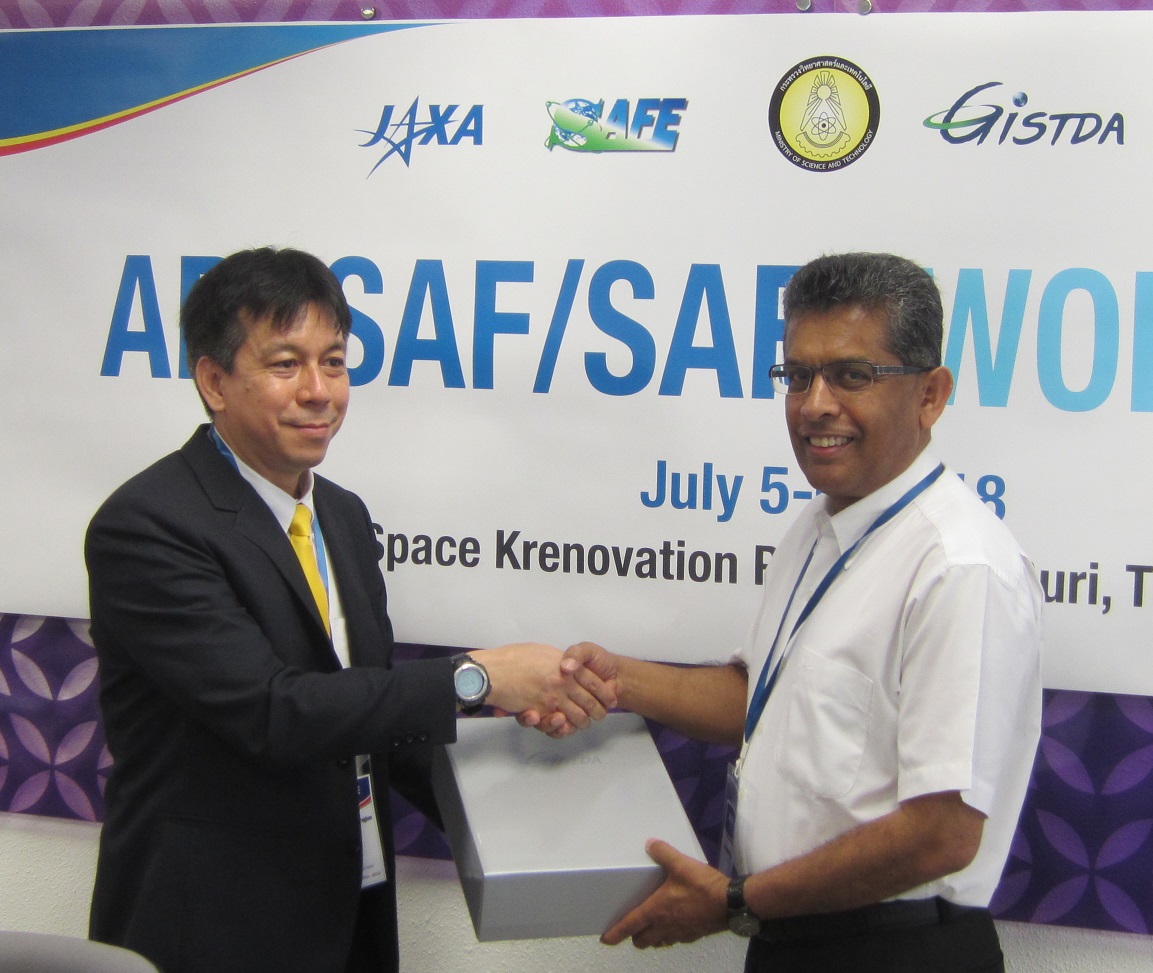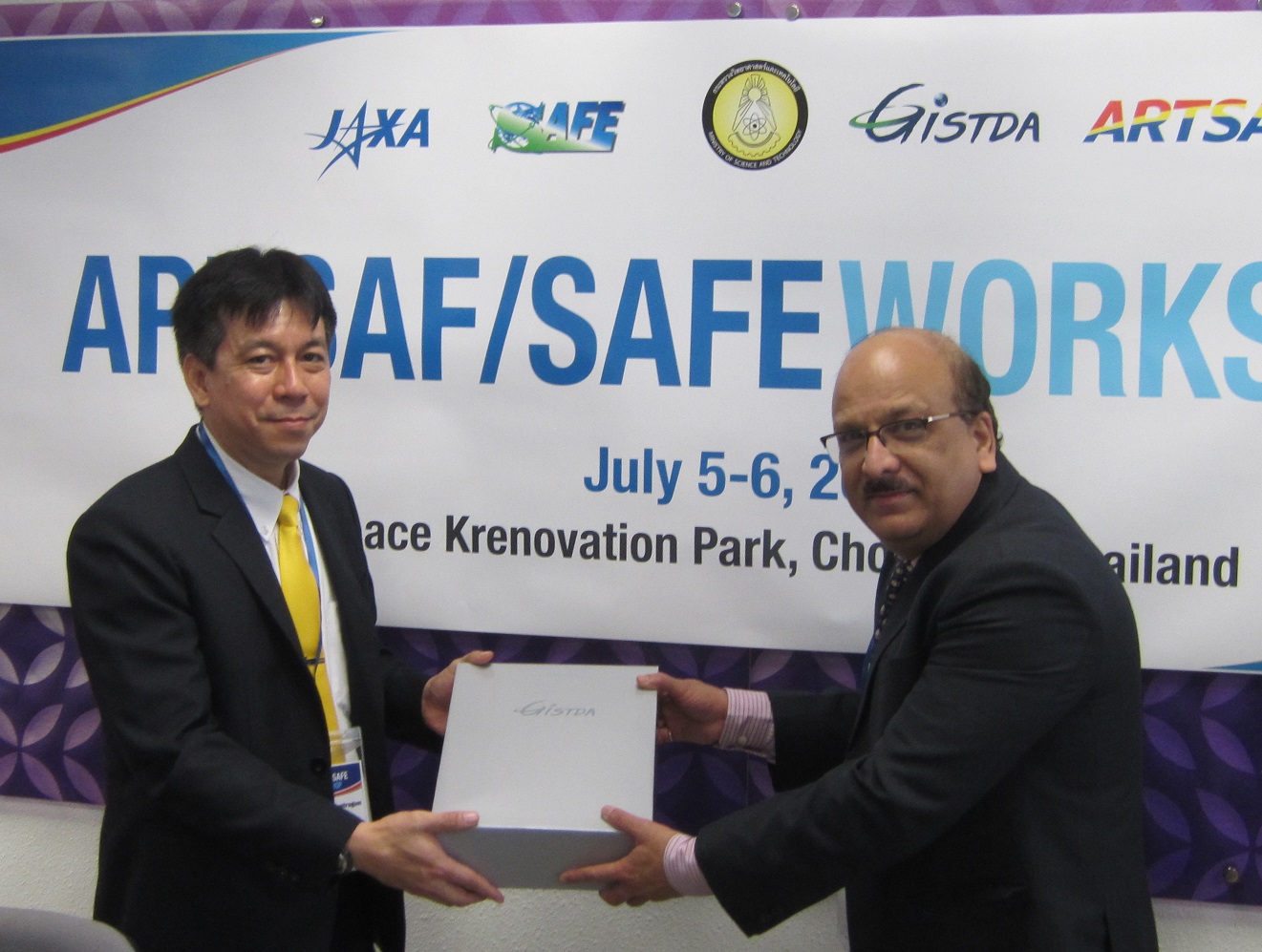 At the end of the workshop, tokens were given to co-chairs by GISTDA.
Result of the APRSAF/SAFE Workshop
Comments for on-going report
Indonesia (Haze Monitoring)

Confirmed steady progress in hotspot detection using MODIS and Himawari-8 as well as remaining technical issues.
Suggested having more detailed discussion with Technical experts (Japan and India) to develop an operational system.
Recommended to consider deeper involvement of MOEF for further collaboration on operationalization other than provision of ground validation data.
Suggested the use of meteorological data for validation.
Comments for final report
Myanmar (Paddy)

Confirmed completion of final training and stakeholder meeting, along with achievements from them.
Expect to conduct validation work by DALMS for INAHOR estimation results for different years and the other study sites.
Comments for follow-up activities
Cambodia (Paddy Area Estimation)

Confirmed successful completion of stakeholder meeting with the suggestion on project continuation by Secretary of State, Ministry of Agriculture, Forestry, and Fisheries.
Agreed to accept follow-up activities for comprehensive evaluation of the operational validation framework in the other areas as a SAFE Follow-Up.

Malaysia (Oil Palm)

Confirmed the progress in activities for operational use, including verification experimentation at test site and demonstration at executor's office.
Realized the necessity of robust and user- friendly system for operation then suggest taking actions and report at upcoming SAFE workshop at APRSAF.
Discussion for SAFE Evolution
Shared the discussion by SAFE TOR writing team on 5 July and confirmed its conclusion.
Confirmed multi-lateral prototyping scheme with the examples for Agro-Met Drought and Rice crop monitoring.
SAFE secretariat will continue to work for TOR revision with following milestones;

By 31 Jul 2018 : Request for comments to discussion paper
By 31 Aug 2018 : Deliver concept paper with revised TOR
TBD in Sep 2018 : Teleconference to adopt TOR
5 Nov 2018 : Revised TOR will be adopted at SAFE workshop as a part of APRSAF-25@Singapore
ASEAN/Regional Cooperation Session
Confirmed activities with possibility to collaborate with SAFE

GISTDA (ARTSA): importance of ARTSA as a training facility not only for technical skills but also for commercial skills
ISRO (Bhuvan and MOSDAC): GIS and application platform (Bhuvan) and the repository platform of a wide variety of earth observation data for meteorological and oceanographic applications (MOSDAC)
VNSC (Vietnam Data Cube): available data and tools in platform in cooperation with space agencies
HAII (Thai water resource management): local implementation of GSMaP with bias correction and improvement of land use and land cover mapping by using satellite data
DNP (Fire Control Division): wildfire risk map covering whole Thailand and regional cooperation such as networking and capacity building as well as international cooperation
Kasetsart University (Wildland fire): objectives and activities of Upper ASEAN Wildland Fire Special Research Unit, framework of Global Wild Fire Network (GWFN) under UNISDR
UNESCAP (activity for SDGs): regional plan of action 2018-2030 and roadmap for the contribution to SDGs with 3 pillars such as research and knowledge sharing, capacity building and technical support, and regional norm and standard-setting
ADPC (Servir Mekong): activities of SERVIR MEKONG such as provision of geoinformation for forest, urban, agricultural applications
RESTEC(JASMIN/AFSIS): roles of AFSIS and development background, available data, and further utilization of JASMIN
JSF (JAIF new project): the proposing project using agromet information from JASMIN with expected fund by JAIF
ADB (Space-Based Technology in ADB): space-based technology and SAFE projects achievements can be applied to ADB projects
As a result of the workshop, prototyping line-up was updated: