Cambodia -201205
< Last Update: 5 Aug. 2014 >
SAFE Prototyping Status: May 2012 - April 2014 <Completed>
Water and Food Security under the Climate Change
Ministry of Water Resources and Meteorology (MOWRAM)
Western Cambodia is known as the most productive granary in this country. Most of the agricultural lands in this country are rain-fed, so that the productivity of the crops is highly dependent on the amount and variability of the rainfall and the stream flow. Since most of the paddy fields are rain-fed and most of the farmers rely only on their experience (not science-based), they would not accommodate themselves to the changing rainfall and water resources under the climate change and thus food security in this region would be threatened.
This research aims to develop the prediction technology of rain-fall and agricultural water resources by making maximum use of knowledge, technologies, infrastructures, and real-time and archived satellite data which are indispensable for development, validation and application of the developed prediction system. Then, it provides usable information for the agricultural activities in western Cambodia to adapt the climate change through the better understanding and the prediction of the changing water cycle in this area.
Overview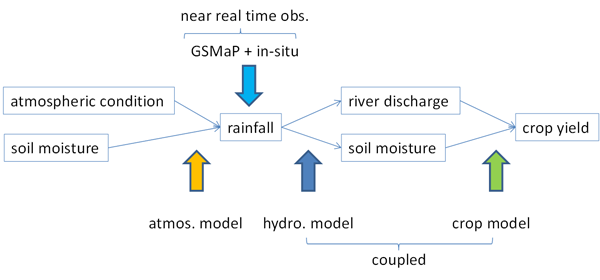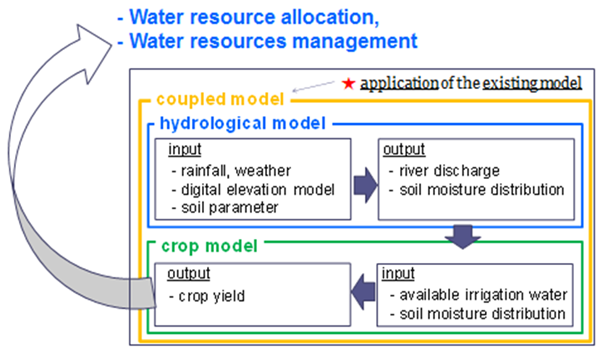 Formation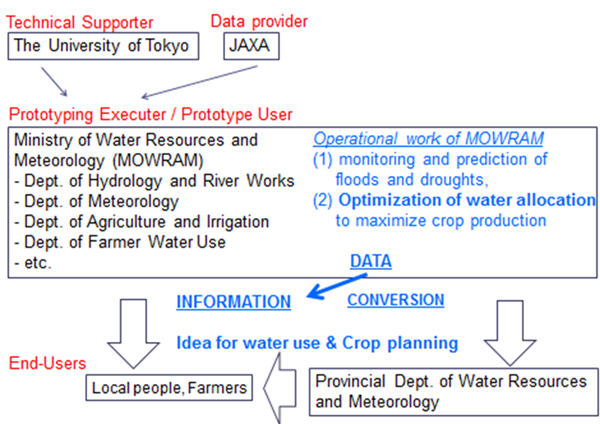 Near-Real Time Data Correction of GSMaP by Rain- Gauges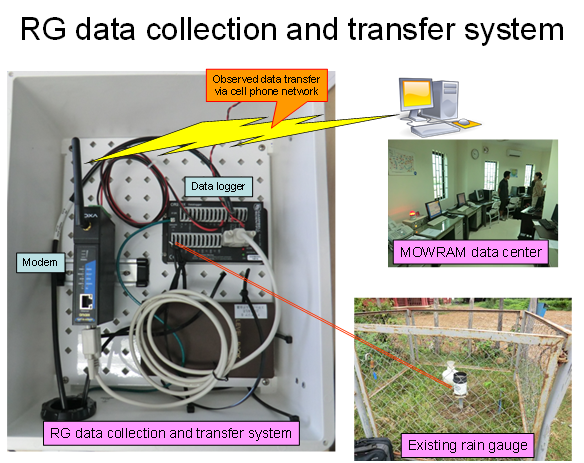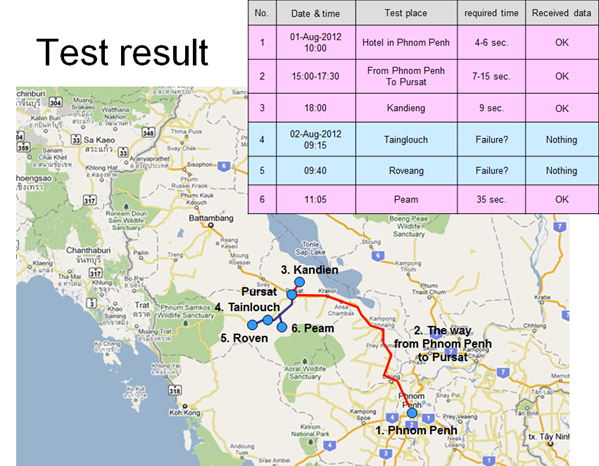 Soil Moisture Obs. by Satellite
Soil moisture distribution by PALSAR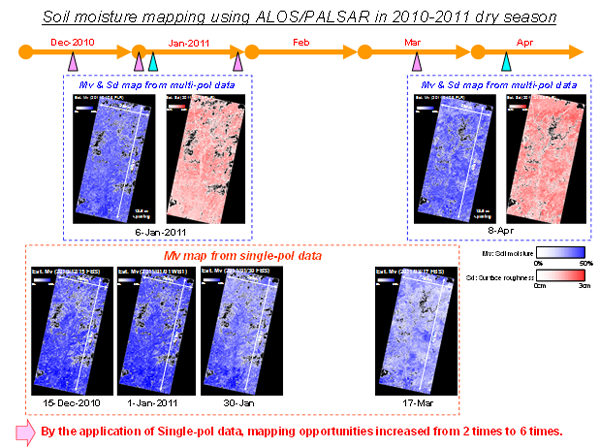 Soil Moisture distribution by AMSR-E + LDAS-UT
Monthly Average (Jan, Feb. Mar., 2010)
Climate Change Impact on Rainfall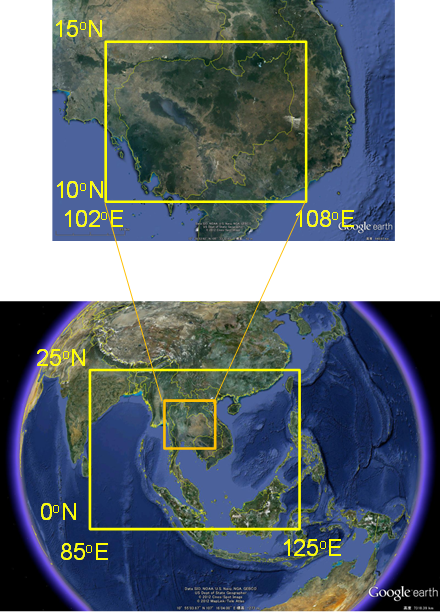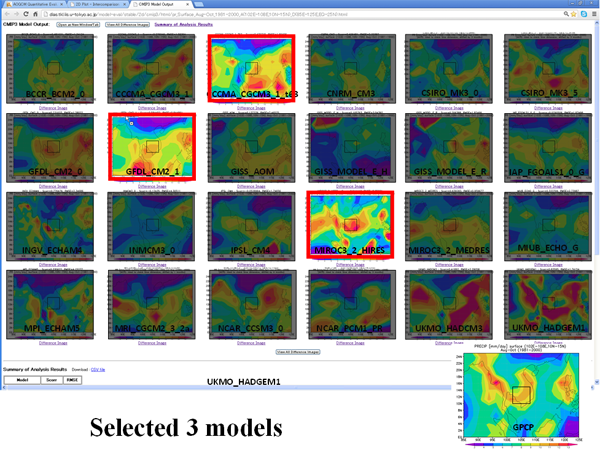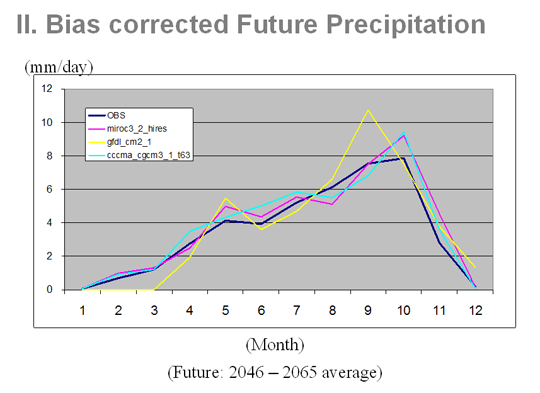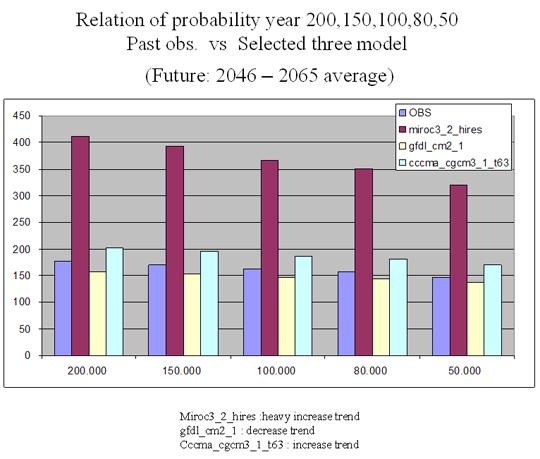 Crop Yield Simulation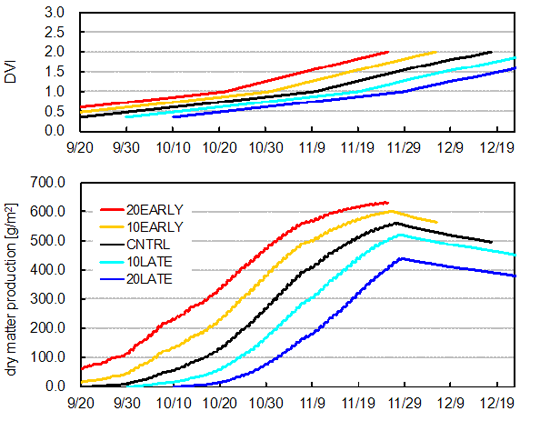 1. Sensitivity analysis on different planting dates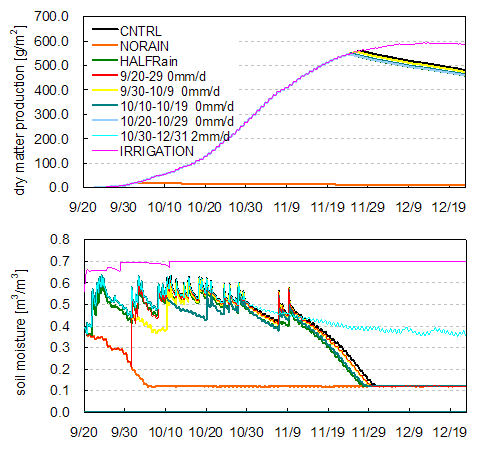 2. Sensitivity analysis on rainfall and irrigation
Expected Results
1) Development of Method
- Development of the rainfall prediction
- Sophistication of the algorithm to estimate soil moisture from satellite by combining PALSAR, LDAS-UT (AMSR-E), and a soil water distribution model.
- Integration of several models, algorithms, and data into one system to contribute to the water and food security in this region
2) Contribution to Agriculture
- Information on the near future water availability for the agricultural activity
- Information for local residents to get prepared for the coming water cycle change
3) Capacity Building
- Acquisition of the technology of models, algorithms, data processing, and data management
- Development of the central and provincial staffs' capacity cooperatively.
- Transferring the skills of the central government experts which were developed to local experts.
4) Scientific Benefit
- Understanding of the mechanisms of the rainfall in the western Cambodia and its possible change under the globally changing climate