Indonesia -201306
< Last Update: Jan. 15, 2016 >
SAFE Prototyping Status: June 2013 - December 2015 <Completed><Follow up>
SAR Technology Application for Paddy Crop Monitoring in Central Area of Paddy Production, in Indonesia
ICALRD of IAARD - Ministry of Agriculture (MoA)
Indonesia has a large paddy field area, around 8.106 million hectares (BPS, 2012). The need of rice in Indonesia is around 58.6 million tons (Dry Milled Rice) in 2025. It is required approximately 12.91 million hectares of Paddy field. At present, crop acreage, production and other agricultural information released by National Bureau of Statistics of Indonesia are mainly obtained in two ways: the traditional overall report (summary of several administrative levels) and the directory sampling based on classical statistics.
However, regular survey and monitoring methods are difficult to offer accurate information. Low cost agricultural information in time to meet agricultural production and management needs. Remote sensing can obtain surface information spatially, wide area covered, periodicity, and economically.
Purpose of the prototype is to assess the use of satellite data to monitor and support the information of wetland rice planting areas and estimation of crop yield periodically.
This prototype will produce:
1) Selected Satellite based model of estimating planted, harvested area, and production of paddy in the center of paddy area validated using ground truth data;
2) Paddy yield information at sub district level of acreage, area harvested, and production of paddy derived from remote sensing data analysis in in the center of paddy area;
3) A Web based system to disseminate information of planted, harvested area and yield estimation derived from remote sensing data in the center of paddy area to end users.
Study Area
Center Area of Paddy, such as Subang and Karawang District of West Java, South Sumatera, South Kalimantan
Final Results
1) SAR Model Development with Airborne SAR (Pi-SAR-L2)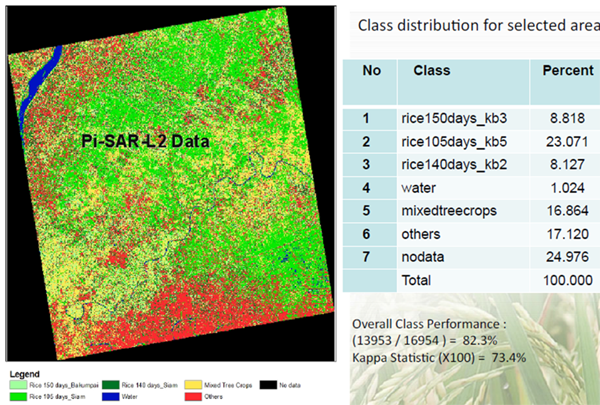 2) Rice Phrenological Stages Classification using ALOS-2 PALSAR-2 Data (HV_HH)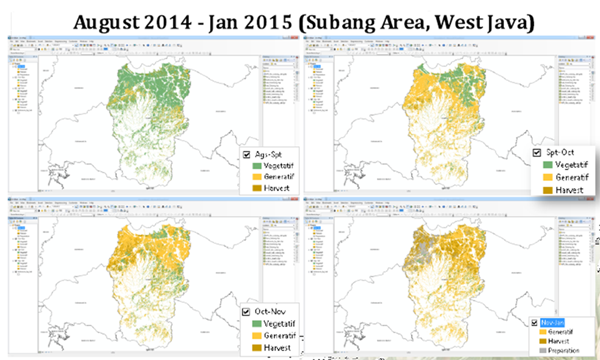 3) Rice Planted-Area and Phenology Mapping (INAHOR) on Cloud Computing System and ALOS-2 Data Distribution System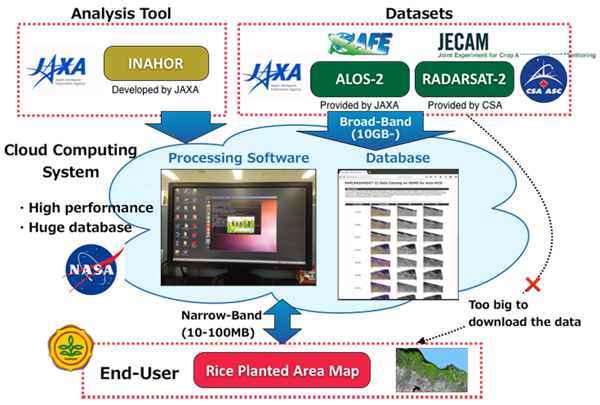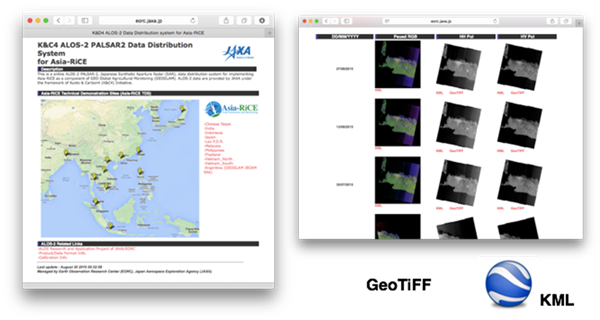 Developed System / Application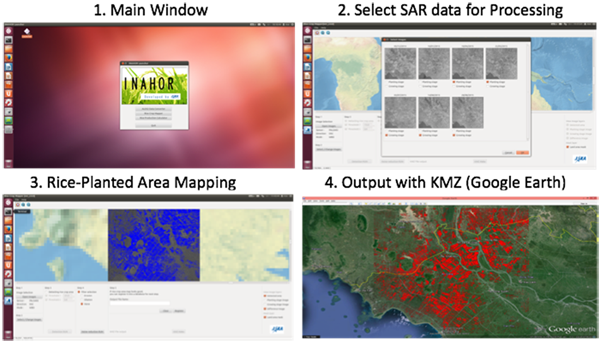 Expected Operational Usage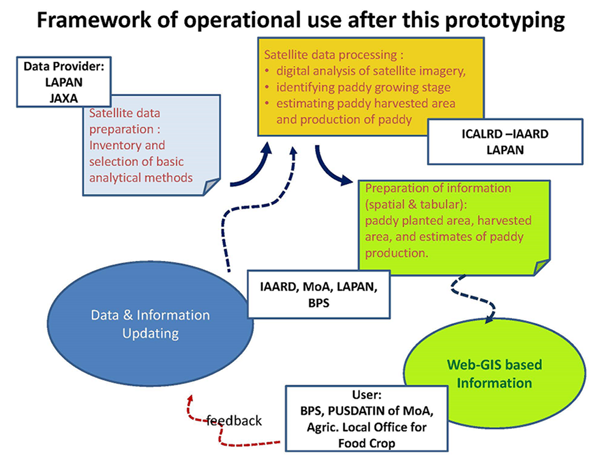 Formation
1) Prototyping Executor
Dr. Dedi Nursyamsi
Indonesian Center for Agricultural Land Resources Research and Development (ICALRD), Indonesian Agency of Agricultural Research and Development (IAARD) - Ministry of Agriculture (MoA), Indonesia
2). Technical Supporter
- Japan Aerospace Exploration Agency (JAXA), Japan
- National Institute for Aeronautics and Space (LAPAN), Indonesia
3) Data & Application Provider
- Japan Aerospace Exploration Agency (JAXA), Japan
a) Satellite and Airborne Data
- ALOS/AVNIR-2 and PALSAR, RADARSAT-2 (2007-2014)
- PiSAR-L2 (2012)
- ALOS-2, Sentinel-1, etc. (2014-Future)
b) Field Data
- ICALRD of MoA: Field checking data
- PUSDATIN of MoA and BPS : Statistic data of rice /crop yield