Indonesia (LAPAN) -201512
< Last Update: Oct. 21, 2016 >
SAFE Prototyping Status: December 2015 - <On-going>
Mapping and Monitoring Oil Palm Plantations Using Optical and SAR Space borne Data
National Institute of Aeronautics and Space (LAPAN)
Palm oil (Elaeis guineensis Jack.) is one of the world's most important tropical tree crops. It is grown commercially in Southeast Asia, Africa and Central and South America for its palm oil, the world's second most widely consumed edible oil (Salunkie et al, 1992). World production of palm oil has increased spectacularly in the last 20 years, especially in Indonesia and Malaysia. Indonesia is the largest producer of palm oil (data of oil world).
As the largest producer, good management in oil palm plantation is very important, such as detecting unhealthy plants, fertilization plan, irrigation management. The expansion of plantation also must be well panned, because its existence must not affect the surrounding environment. Therefore the information of oil palm age or condition of their growth is needed. Those are important for increasing quality and yield of palm oil, as well as to avoid uncontrolled expansion. RS has significant potential to aid oil palm monitoring and detection efforts. It also provides a cost-effective method to these purposes and at the same time provides site-specific assessments of management practices and growth performance of the palms.
The purpose of this prototype is to build a prototype of oil palm monitoring system and to establish the data base of plantation for estimating oil palm's area extent and its yield.

1) To generate oil palm distribution map using optical and SAR satellite data
2) Develop oil palm spatial distribution monitoring methods to identify encroachments, new developments, and abandonment of oil palm estates
3) To estimate the age of existing oil palm plantation and to compare with normal growth set by national standards to help the improvement of national yield estimate (traditional, inventory based estimation).
Study Area
- North Sumatera
- South Sumatera
- West Kalimantan
- West Sulawesi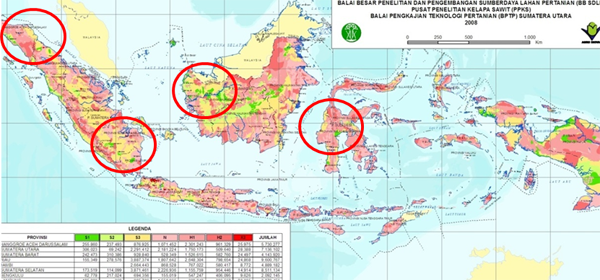 Work Plan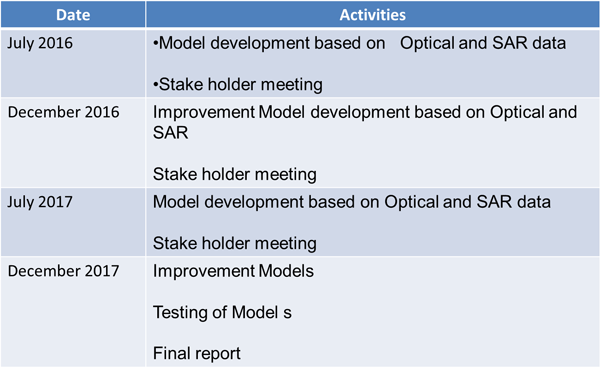 Developed System / Application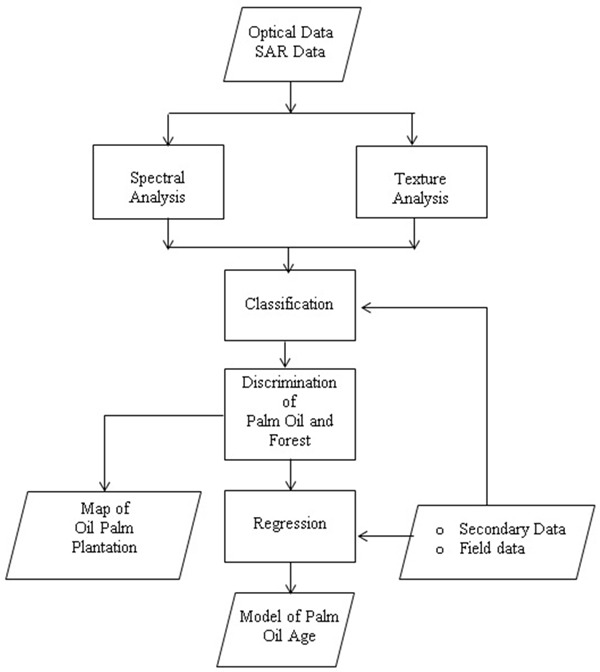 Current Achievement
1) Satellite Data Acquisition:
ALOS-2 Data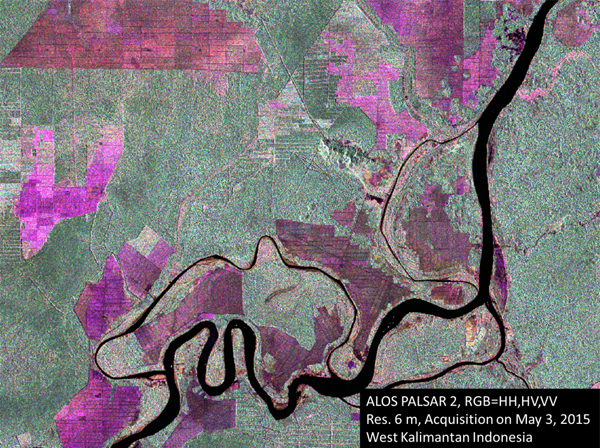 SPOT-6 Data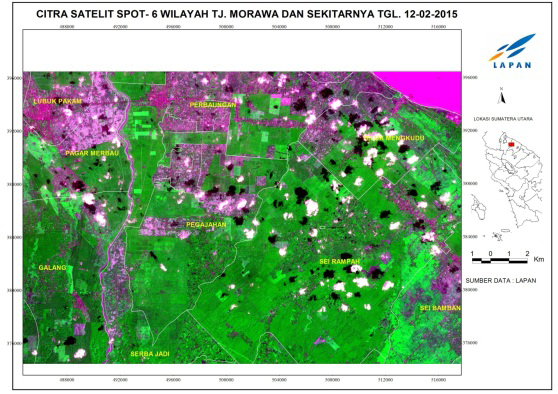 2) Secondary Data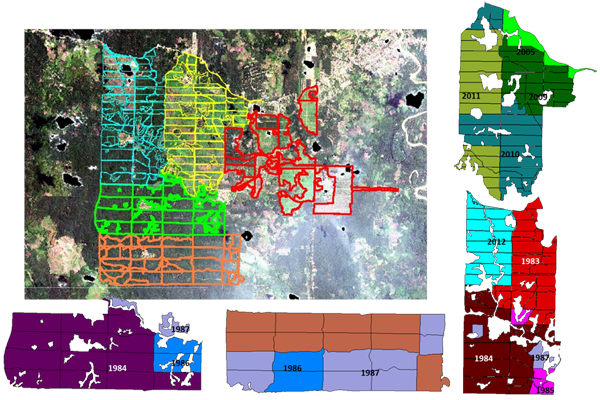 3) Data Processing and Modelling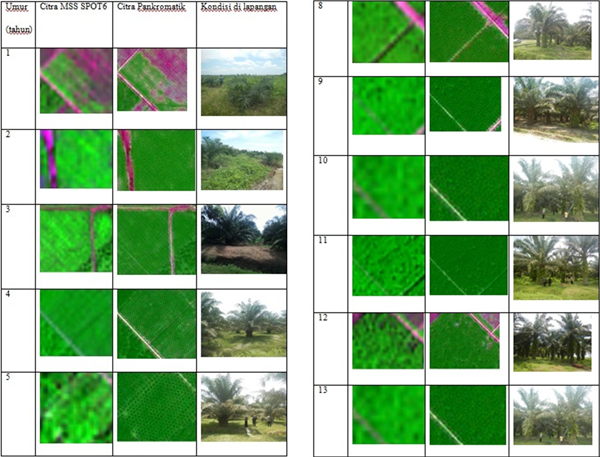 4) SPOT Analysis
Profile Growth Palm Oil by using SPOT6 for Tebing Tinggi, North Sumatera
(Preliminary Results)
y = -0.0004x2 + 0.0107x + 0.3912, R2 = 0.68
where : y : NDVI and x = age of oil palm
5) ALOS PALSAR 2 Analysis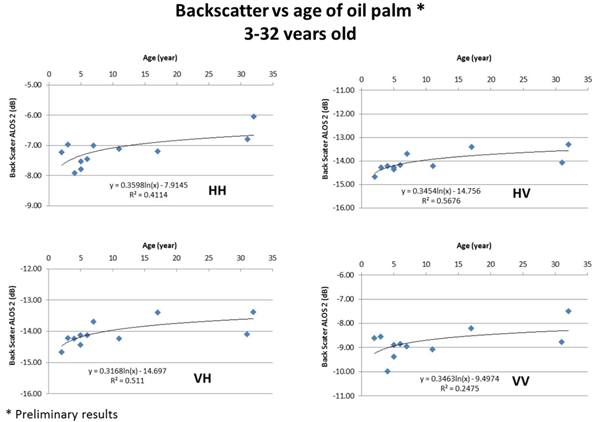 Expected Operational Usage
1) Advanced technical knowledge of mapping oil palm with higher accuracy
2) Methods for mapping the oil palm plantations based on their stand age
3) Monitoring system for oil palm plantation to investigate the health condition of oil palm trees and to support the carbon emission reduction program
4) To help Ministry of Agriculture to estimate national yield
5) To help Ministry of Forestry and Environment to estimate the biomass, reduce carbon emission and prevent forest fires
6) To help Local Government in evaluation of regional development
Formation
1) Prototyping Executor
- Ms. Ita Carolita
National Institute of Aeronautics and Space (LAPAN)
2) Technical Supporter
- The University of Tokyo
3) Data & Application Provider
a) Satellite Data
- ALOS-2/PALSAR-2
- Landsat-5/7/8
- SPOT-6
- Sentinel 1A
- TerraSAR
b) Other Data
Sources:
- Oil Palm Government Company North Sumatera and West Kalimantan
- PPKS North Sumatera
- Dinas Perkebunan Propinsi
Data:
- Field survey data (Age, canopy diameter, height of tree)
- Plant Calendar