Report of the SAFE Workshop in APRSAF-24,
Bengaluru, India
< Last Update: Dec. 13, 2017 >
The SAFE Workshop in APRSAF24 was successfully completed at the Sheraton Grand Bangalore Hotel at Brigade Gateway on November 13, 2017. After the workshop, the result was reported to the Space Applications Working Group (SAWG) and the plenary session which was held continuously from November 14 to 17.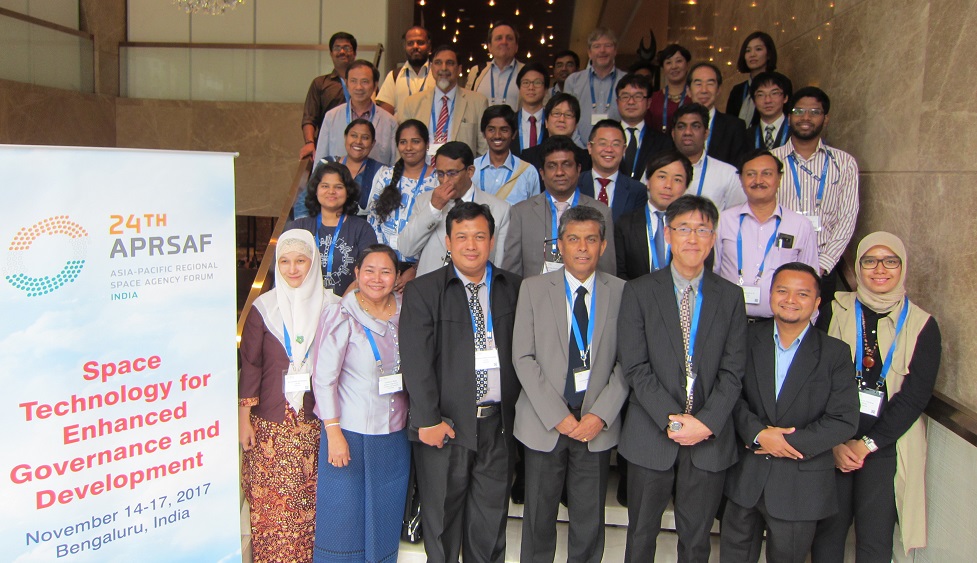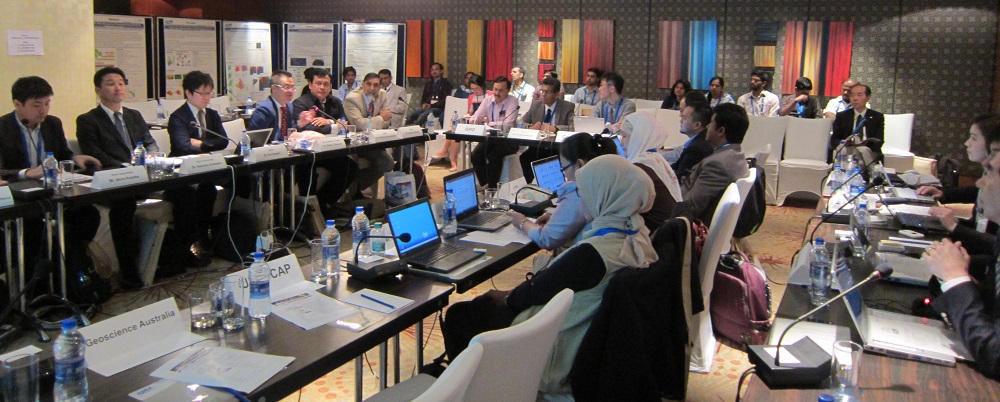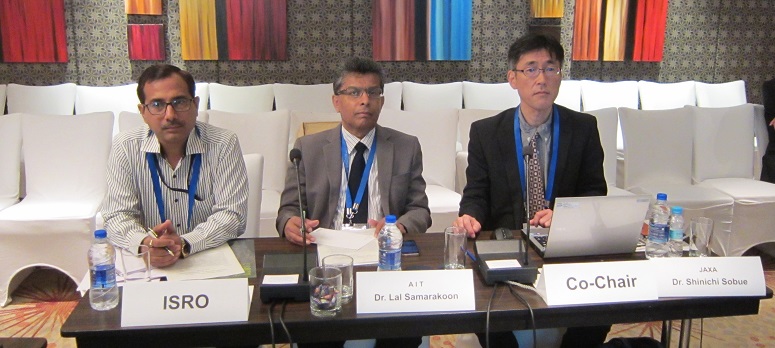 The workshop was led by co-chairs, Dr. Shinichi Sobue, JAXA and Dr. Lal Samarakoon, Geoinformatics Center (GIC), Asian Institute of Technology (AIT). The total number of participants was 50 from several countries and international organizations including AIT and ICHARM.
The status of one on-going prototype and two follow-up activities was reported in the workshop. Also, final reports were presented for three completing prototypes.
In the end of the sessions, SAFE future framework was discussed by participants. The concept paper for SAFE evolution stating plans to authorize SAFE new TOR and evolution activity plan in the opportunity of next SAWG/APRSAF-25 meeting was adopted.
The summary recommendations of SAFE initiative are given below;
SAFE Evolution
Toward the evolution of SAFE Initiative:
Expansion of SAFE to share the common interest / knowledge in Asia Pacific region

SAFE prototyping succeeded to demonstrate space applications in several countries.
Availability of satellite data in the Asia-Pacific region is increasing.
Collaboration among space agencies in the Asia-Pacific region is important to improve and utilize SAFE achievements.

Need to enhance knowledge and data sharing / capacity building to utilize SAFE achievements with IoT

SAFE prototyping achievements have potential to be transferred between countries in the Asia-Pacific region
Based on common interest, e.g. agriculture management / food security, integrated water resource management (drought, flood, etc.)
Capacity building / knowledge sharing to utilize SAFE achievements can be accomplished by collaboration among A-P regional Agencies
Expectation of SAFE Evolution:
Main objective of the SAFE evolution is to enhance the multilateral cooperation to seek timely and appropriate solutions for regional environmental issues.
Summary of Prototype Activities
Confirmed good progress of ongoing, completing and follow up prototype projects
Confirmed good progress of ongoing, completing and follow up prototype projects

Provided recommendation and suggestion to proceed for sustainable use of completed and follow up projects. (Ongoing: Indonesia Haze. Completed: Sri Lanka Flood Warning System; Malaysia Oil Palm management system; Cambodia rice-paddy. Follow up: Indonesia and Vietnam rice-Paddy)

Success Stories of Paddy Field Monitoring

Confirmed that paddy field monitoring activities using SAR (e.g. ALOS-2) and optical observation in Indonesia and Vietnam are promoted by national frameworks,
Planned to provide a platform for sustainable operation from a provincial level to region / country scale (wall-to-wall) with international collaboration,
Agreed to promote these "success stories" with GEOGLAM Asia-RiCE information and knowledge sharing including ISRO's knowledge for operational use to other SAWG participating countries toward the solutions for food security in the Asia-Pacific region.

Future of SAFE Evolution (Immediate Activities)

Review of current issues around SAFE prototype implementation (administrative and technical issues) and sustainable use of outcome and achievement of SAFE prototype,
Develop a new Terms of Reference (TOR) to address the objectives of the SAFE evolution,
Form a TOR writing team of contributors to prepare a TOR, identify action items and prepare action plan,
Develop a plan of actions and time-frame to achieve the objectives,
Promote the SAFE evolution activities in international and regional forums to receive support for achieving the objectives, and
Conduct regular meetings; face-to-face and teleconferencing.

Future of SAFE Evolution (SAFE Evolution Milestones)

SAFE Workshop, on 13th November, in APRSAF-24: The writing team (Steering Committee) was formed and launched,
December, 2017 ? May, 2018: Drafting SAFE new TOR, plan of action, and time frames through meetings and teleconferences,
June, 2018: Discussion of SAFE evolution activities with SAFE participants and important stakeholders (ex. ESCAP, ADB and JICA) at SAFE Workshop,
November, 2018: Finalization of SAFE evolution activities at SAFE Workshop/APRSAF-25, and table the same at SAWG/APRSAF-25 for approval
Results of progress and final reports
On-going prototyping
Indonesia (Haze Monitoring)

Recommend to identify technical issues (e.g. atmospheric correction etc )to integrated utilization of Himawari-8 and MODIS as a list and incorporate to PDM.
Recommend to consider how to archive and process satellite data such as Himawari and to share the information using cloud platform - Open Data cube concept may assist the systems design.
Recommend to revise the presentation (Achievement to Date) to identify the events related with end user meetings.
Completing prototyping
Indonesia (Oil Palm Monitoring)

Confirm to finish technical development
Recommend to identify the updated items from PDM in conclusion which should be defined as extra success.
SAFE secretariats noted that LAPAN would like to propose the next project for the standardization of methodology with end-user ministries as follow up activity.

Cambodia (Rice Production Estimation)

Confirmed to finish technical development
Recommend to summarize the output / outcome at upcoming stakeholder meeting with 2nd year's data verification and checking if proposed operational scheme works
SAFE secretariat notes that Cambodia MAFF requires follow-up activities regarding data acquisition and capacity development to expand to operational use in country level.

Sri Lanka (Advanced Flood Forecasting)

Confirm to finish technical development
Encourage to secure the timeline for stakeholder meeting (e.g. updating ID's web system to integrate the application)
Recommend to identify the outcome / output which belonged to SAFE initiative since other project contributed a severe flood event in 2017 summer at Sri Lanka using SAFE's output.
SAFE secretariat notes that ID would like to upscale the applications to other river basins as follow up activity

Comments for projects with no presentation today

[Myanmar (Paddy)]

Suggest to hold the final training and stakeholder meeting as soon as possible since the dialogue with end user is a key for the operational usage

[MRC (Flood)]

Confirm to finish technical development
Encouraged to enhance and trial applying JAXA's Agro-Met Information System for Mekong river basins.
SAFE follow up
Malaysia (Oil Palm)

Confirmed the successful implementation of follow up activity
Encourage to summaries Lessons Lenard from the prototype activities including follow-up activities (easy use of system in real worker), especially challenge from prototyping to operational use.

Vietnam (Paddy)

Congrats the successful scaling-up and encourage to establish VN Data cube to provide data in sustainable manner to end users.
Confirm common challenge for SAFE community - how collaborate with other field (e.g. statistics)
As a result of the workshop, prototyping line-up was updated: