Report of the 6th SAFE Workshop in Kuala Lumpur,
Malaysia
< Last Update: 9 May 2014 >
The 6th SAFE Workshop was held in Berjaya Times Square Hotel in Kuala Lumpur, Malaysia on 23rd April in conjunction with the conference organized by the Institution of Geospatial and Remote Sensing Malaysia (IGRSM 2014) (7th IGRSM International Conference and Exhibition on Remote Sensing & GIS). There were 44 participants from 22 organizations, including international participants from Bangladesh, Cambodia, Indonesia, Japan, Malaysia, Sri Lanka, and Vietnam. The workshop co-hosted by UPM/ ANGKASA and JAXA was successfully and fruitfully completed.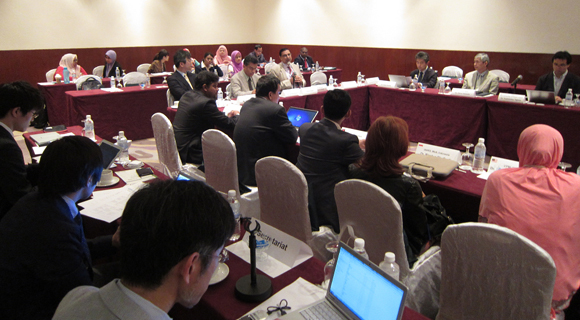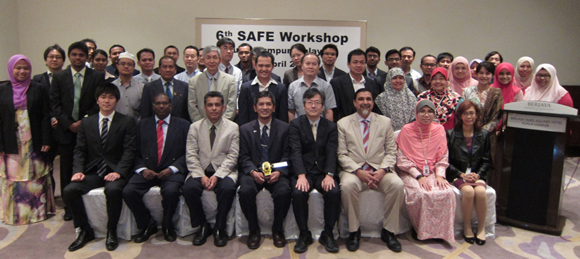 The SAFE workshop was led by co-chairs, Dr. Lal Salamakoon, Director of Geoinformatics Center, Asian Institute of Technology (AIT) and Associate Prof. Dr. Abdul Rashid Bin Mohamed Shariff, Universiti Putra Malaysia (UPM), Malaysia. The opening key remarks were delivered by Dr. Noordin Bin Ahmad, Director General, Malaysian National Space Agency (ANGKASA).
At the beginning of the workshop, the participants endorsed pre-screening results of 5 new proposals by the review board. The applicants of these 5 proposals were requested to revise their proposals and re-submit at the next opportunity based on review board suggestions/comments.
In the meeting, 6 progress reports of on-going prototyping were reviewed and suggestions/comments were provided by participants. Good progress for all of the on-going prototyping was confirmed by participants.
Following the progress reports, three final reports from Indonesia, Cambodia, and Bangladesh were presented and discussed. Workshop attendees agreed with the accomplishments of the each of the completing prototypes and the executers were congratulated on their successful completions. These completed prototyping are expected to move forward and to be operational.
During the workshop, there were three special reports; two of them are by local participants from UPM and Forest Research Institute Malaysia (FRIM) related to forest and rice monitoring efforts by using satellite remote sensing data, and another was by Central Environment Authority (CEA), Sri Lanka. The Malaysian presenters reported research results on 'above ground biomass carbon mapping and change monitoring in the forests of Peninsular Malaysia using L-band ALOS PALSAR and JERS-1' and 'Spot-5 Multispectral Images for 60-75 days of rice mapping' respectively while CEA reporting the post prototype activity on Mapping and Detecting Wetlands in a River Basin of Eastern Sri Lanka.
At the end of the workshop, tokens were exchanged among organizers and executers who made final reports.
This workshop was held in conjunction with IGRSM 2014, 21-22 April. Several SAFE prototyping executers and technical supporters reported their results in the SAFE Session in IGRSM 2014. One paper submitted from our SAFE community was awarded the Best Paper of the IGRSM 2014. Congratulations to Dr. Rizatus Shofiyati, ICALRD, Indonesia.
Result of the SAFE Workshop
1. Comments for on-going report
a. Malaysia (Abandoned Lands)
- Request to prioritize objective of prototyping to detect abandoned land based on stakeholder requirement using space technology
b. Vietnam (Mekong Rice Crop)
- Study RADARSAT2 VV/VH data using JAXA's software INAHOR
- Study optimal number and timing of satellite data to estimate rice crop area
- Invite DARD to confirm their requirement for this prototyping and to promote SAFE prototyping in stakeholder meeting
- Revise PDM to add use RADARSAT2 in this SAFE prototyping under Asia rice crop team activity in GEO GLAM
c. Vietnam (Flood forecasting)
- Better to visualize the error gap and reliability of GSMaP_NRT, numerical forecasting, etc.
- Consult to use updated version of GSMaP with GPM core
d. Vietnam (Coastal erosion)
- Need to change the title of prototyping to carry out Ma River.
- Need to check the quantitative change of shoreline location using field survey to compare with satellite data for morphology change
e. Indonesia (Carbon stock mangroves)
- Need to clarify the wording of biomass (above, total or under) in this study
- Suggest to consult the possibility to promote national level of mangrove map using available ALOS PALSAR mosaic to upgrade mangrove map of 1997
f. Indonesia (Paddy Crop Monitoring)
- Revise PDM to add use RADARSAT2 in this SAFE prototyping under Asia rice crop team activity in GEO GLAM
- Need SAR data of South Kalimantan
2. Comments for Completed prototyping
a. Indonesia (Drought impact on rice production)
- Congratulate the successful accomplishment to show the value of RS data based drought information to decision makers
- Wish to see farmer friendly system with other information like rainfall for flood, etc.
b. Cambodia (Drought impact on rice production)
- Congratulate the successful accomplishment
- Wish to continue to promote your accomplishment to your end users
- Suggest to share the successful accomplishment with GMS ADB project and NAHRIM, Malaysia
c. Bangladesh (Sedimentation & stability)
- Confirm to finish main part of prototyping
- Request to have A/I to hold a stakeholder meeting with finishing remain parts of prototyping
- Request to report A/I response at the next SAFE workshop
- Expect to share the results with VAWR on-going prototyping
As a result of the workshop, prototyping line-up was updated: