Report of the 5th SAFE Workshop in Nagoya, Japan
< Last Update: 19 Jun. 2013 >
The 5th Spring SAFE Workshop in conjunction with EO-Mid-year meeting including Climate R³ was held at Nagoya Urban institute in Nagoya, Japan during June 5-6, in fine day with approximately 50 participants.
The venue is in the highest building around there and along with Nagoya Boston museum and ANA Crowne Plaza Hotel. The joint workshop was successfully and fruitfully finished.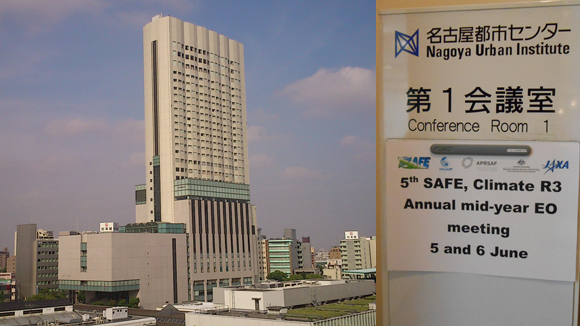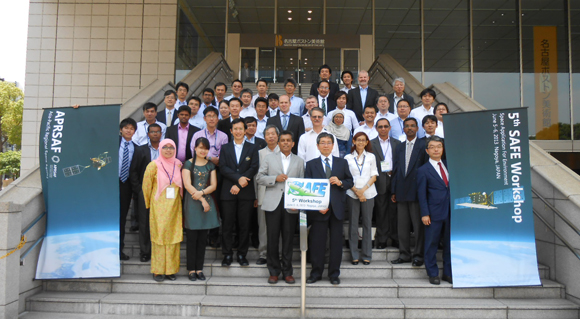 The 1st day, the SAFE workshop was led by co-chairs, Dr. Lal Salamakoon, Director of AIT/GIC and Dr. Toru Fukuda, Director of EORC/JAXA. In the workshop, useful information was shared by some of post prototype executers such as thoughtful way to use the SAFE result. They had attended at the SAFE workshop to participate the ISTS29 held in Nagoya conference center and presented on the own SAFE activities after a long time.
The 2nd day, remaining SAFE workshop was held on the report of reviewing proposals and wrap-up session. The materials of them are up-dated in the web-site to share. After that, the EO-Mid-year meeting was opened led by co-chairs, Dr. Shin-ichi Sobue and Mr. Joseph Andrews of SPU, Australia.
In the meeting, Climate R³, GFOI and CEOD-AP was updated and GCOM-C & HIMAWARI-8/9 for Metrological and non-Metrological activities including the result of the previous meeting held in Australia was informed. In particular, this time also, the person from ADB and JICA participated as donor agency and shared about activities and discussion on the EO WG.
Result of the SAFE Workshop
1. Review result for SAFE proposals
a. Mongolia (Drought monitoring)
Decision:
Request to revise a proposal with the following comments to submit next opportunity
Comments / Suggestions:
- Connection between MOIA, IMHE and NRSC: domestic collaboration structure not clear
- Clarify end user needs
- Clarify EO data use strategy include value add to existing MODIS system
b. Vietnam (Rice crop monitoring)
Decision:
Approve with reflecting the following comments before having a kick off meeting
Comments / Suggestions:
- Value-added of SAFE project in context of existing and past research activities needs to be clear
- Coordinating / sharing other rice crop monitoring activities in SAFE and/or GEO GLAM
- Required EO Data availability may be a challenge
- Need clarity on final goals and operationalization, including rice yield forecast method
c. Vietnam (Coastal erosion)
Decision:
Request to revise a proposal with the following comments to submit next opportunity
Comments / Suggestions:
- Isolating the scope of the SAFE project within existing activity needs to be much clearer
- Goals and end user requirements to be made clearer
d. Indonesia (SAR Rice crop)
Decision:
Approve with reflecting the following comments before having a kick off meeting
Comments / Suggestions:
- Value-added of SAFE project in context of existing research activities needs to be clear
- Coordinating / sharing other rice crop monitoring activities in SAFE and/or GEO GLAM
- Required EO Data availability may be a challenge
- Need clarity on final goals and operationalization, including rice yield forecast method
e. Malaysia (Agricultural land abandonment)
Decision:
Approve with reflecting the following comments before having a kick off meeting
Comments / Suggestions:
- Whether High Resolution data is essential given land size (Required EO Data availability may be a challenge)
- End-user engagement in operational implementation
2. Comments for on-going report
a. Wetlands Mapping (Sri Lanka)
- Consider connection with K&C project
- Encouraged to see through 1 or 2 areas through to policy impact to see benefits of SAFE process
b. Drought (Indonesia)
- Himawari-8 should help improve accuracy
c. Mangrove carbon (Indonesia)
- Consider connection with K&C Global Mangrove
d. Water & Food Security (Cambodia)
- More quick GSMaP NRT data requested
- Importance of getting data to end users (e.g. MOA) stressed
e. Coastal (Bangladesh)
- Consider Sri Lanka experience of impact on policy
Result of EO-Mid-year meeting
SAFE Workshop
- Approve three new prototype proposals and request two proposals to revise to re-submit in the next opportunity
- Check the current situation of on-going prototyping with good shape
- Approve revised TOR with adopting PDM type management
Climate R³
- Australian suggestion to develop broad understanding and evidence base for APRSAF EO activities: CEOD-AP (Continuity of EO Data for Asia-Pacific) Survey - step by step, perhaps starting with 3 SBA (Social Beneficial area) s, also covering in-situ obs.
- Himawari-8/9 & GCOM-C integrated application prospects
GFOI
- APRSAF countries invited to participate and benefit from GFOI Space Data Services for benefit of REDD+ activities
GEOGLAM Asia Rice Crop team
- Indonesia, Thailand, Vietnam identified as Phase 1 TDS priorities for a provincial rice crop area estimation
- Space Data requirements identified, including for RISAT to submit it to CEOS ad hoc team meeting in DC in this June
- Study the possibility of entire country rice crop area estimation using SAR in Thailand as a second year
Donors - ADB and JICA
- Note potential for GEOGLAM and GFOI to propose new their projects
- Confirmed benefit of SAFE-type activities for validating space techniques for use on their project
- APRSAF country informed to participate ADB workshop
- Show ADB's interest in collaboration with Asia-RiCE
- Stress data continuity and affordability of earth observation satellite data
General
- Japan's co-chair of EOWG will be changed from Shin-ichi to Imaoka-san
Status
Countries / Executor
Theme
APPROVED
COMPLETION
Completed
Vietnam / NHMS, MONRE
Integrated water resource management
May, 2008
2ndWS
Vietnam / FIPI, MARD
Forest monitoring
May, 2008
2ndWS
Cambodia / MOWRAM
Water Cycle and Agricultural Activities
May, 2009
@1st WS
3rdWS
Lao PDR / WREA, WERI
Forest monitoring and management
May, 2009
@1st WS
3rdWS
Indonesia / LAPAN
Potential Drought Monitoring
Jan, 2010
@APRSAF16
APRSAF18
Sri Lanka / CCD
Risk of Sea Level Rise on Coastal Zone
Jan, 2010
@APRSAF16
APRSAF18
Pakistan / PMD
Monitoring Water Cycle Variations & Assessing Climate Change Impacts
Jun, 2010
@2nd WS
(Jun, 2012)
Sri Lanka / NARA
NARA Modeling ocean frontal zones using high resolution satellite and float data to locate tune fish aggregations
Jun, 2010
@2nd WS
(Jun, 2012)
Thailand / DOF
Economic Fish Larvae Mapping and Monitoring
Nov, 2010
@APRSAF17
(Dec, 2012)
Vietnam / FIPI, MARD
Mangrove Forest Mapping and Carbon Stock Estimation
Nov, 2010
@APRSAF17
(Dec, 2012)
On-going
Sri Lanka / GI, CEA
Mapping and Detecting Wetlands in River Basin
Nov, 2010
@APRSAF17
(Dec, 2013)
Indonesia / ICALRD, IAARD, MOA
Assessment of drought impact on rice production in Indonesia by satellite remote sensing and dissemination with web-GIS
May, 2012
@4th WS
 
Cambodia / MOWRAM
Water and Food Security under the Climate Change
May, 2012
@4th WS
 
Bangladesh / LGED
Investigation of sedimentation process and stability of the area around the cross-dams in Meghna estuary
May, 2012
@4th WS
 
Indonesia / LAPAN
The assessment of Mangrove Forest Carbon Stock Monitoring of Indonesia using Remote Sensing Approach
Dec, 2012
@APRSAF19
 
Approved
Indonesian Center for Agricultural Land Resources Research and Development (ICALRD) of IAARD - MoA
SAR Technology Application for Paddy Crop Monitoring in Center of Paddy Area, in Indonesia
Jun, 2013
@5th WS
 
Faculty of Agriculture, Universiti Putra Malaysia
Monitoring of agricultural land abandonment using remote sensing
Jun, 2013
@5th WS
 
Executing Agency: HoChiMinh City Institute of Resources, Geography (HCMIRG) - VAST, Vietnam
RICE CROP MONITORING IN THE MEKONG DELTA, Vietnam
Jun, 2013
@5th WS