How to Apply and Proceed
< Last Update: 18 Jul. 2013 >
Unlike disaster management, environmental monitoring has no real trigger to start something new. Its scope is the normal (non-disaster) situation, and its operations are strongly connected with each country's regulations and routine tasks. SAFE prototype activity aims to strengthen environmental monitoring in member countries. The activities are implemented by a project team that consists of the prototyping executor, the technical supporter, and the data and application creator. The project team members work together to support the environmental monitoring system in each member country. The team can ask other SAFE members to support their activities, and the members should react to the team's request. To ease barriers to start-up, the prototype activity is limited to two years. Before finishing prototype, stakeholder meeting will be held to realize practical use by themselves.
SAFE prototype activity will be promoted by voluntary manner, and SAFE will encourage them by giving the authority for official SAFE activity. Below Figure is a flow chart for the launching of a new prototype activity.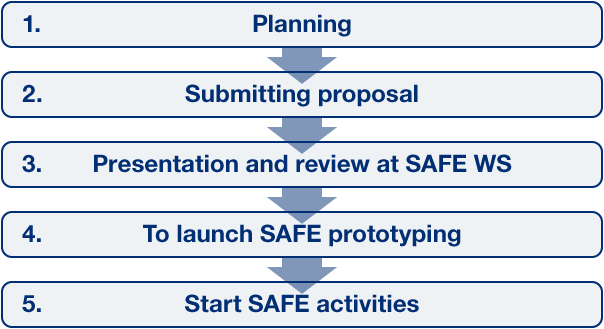 Phase 1. Planning
Any member participating in the APRSAF can make a proposal. Members should consider the purpose, resources and schedule of the proposal and stakeholders. The ideal situation is to finish establishing an original project scheme in this phase, however, the proposer can ask other SAFE members to support its proposal in phases 2 and 3.
Phase 2. Submitting proposal
The SAFE secretariat issues the call for proposal twice a year. The announcement is updated in the SAFE portal site and disseminated by email. Applicant can submit its prototype proposal to the SAFE secretariat in accordance with the announcement.
Phase 3. Presentation and review at the SAFE Workshop
At the SAFE Workshop, applicant has to give a presentation of the proposal. All members participating in the workshop should consider how to support the submitted proposal. After the presentation, every proposal is reviewed by review board, which consists of third party. As the result, review board provides the recommendation for decision to the SAFE participants. The SAFE initiative's decision is reported at the Earth Observation working group in the upcoming APRSAF.
Phase 4. To launch SAFE prototyping (After approval)
After the approval, applicant should hold the kick-off meeting with SAFE secretariat and its technical supporter. At the kick-off meeting, the applicant, SAFE secretariat and technical supporter discuss and agree on the prototype implementation plan based on the SAFE Project Design Matrix (PDM) developed by the SAFE secretariat. In principle, the kick off meeting should be held within two months after the approval. The technical supporter and data and application creator are provided as SAFE resources by SAFE secretariat.
Phase 5. Start SAFE activities
After the the kick-off meeting, the prototype is placed in the on-going status.