Ocean Environment Monitoring

The changes in the ocean environments affect not only everyday weather and changes to fishing grounds, but also large-scale atmospheric circulation, climate systems and marine ecosystems. EORC develops and produces data on ocean parameters, such as sea surface temperature, sea ice, chlorophyll-a concentration (phytoplankton's photosynthetic pigment) and photo synthetically active radiation (sunlight effective for the photosynthesis of plants), based on various observation data sets. Then, EORC provides the data and images to researchers and general users. We also produce continuous ocean environmental data sets, which without missing values, include parameters that cannot be observed directly from satellites, in coordination with ocean models. The goal of the research is to contribute to the both climate research and operational application, such as utilization in fisheries.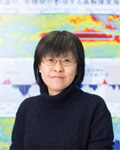 Misako Kachi
Senior Researcher
Earth Observation Research Center
Space Technology Directorate 1
Long-Term Global All-weather Observation using Passive Microwave Imagers - Arctic Sea Ice Monitoring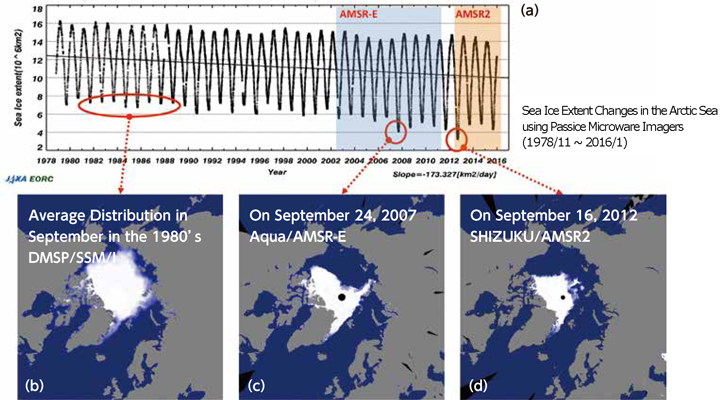 Passive microwave imagers can observe sea ice distribution or sea surface temperature through clouds, and have provided essential information for understanding the influence of climate changes since late 1978 by continuous observation with multi-sensor.
Based on long-term and continuous observation of the Arctic Sea Ice Extent from Nov. 1978 to Jan. 2016 (a), the AMSR-E on the Earth observation satellite "Aqua" captured the second smallest extent (c) in the record in September 2007 and the AMSR2 on the Global Change Observation Mission (GCOM-W) "SHIZUKU" captured the smallest sea ice extent (d) in the record of satellite observation in September 2012.
High-Frequent Observation using a Geostationary Satellite


The geostationary meteorological satellite "Himawari-8", which started its operation in September 2015, has 0.5 ~ 2-km spatial resolution and performs full-disk observations every 10 minutes. JAXA produces data sets on high-frequent sea surface temperature (a) and chlorophyll-a concentrations (b). Further, these data sets are assimilated into high-resolution ocean models (c, d) in cooperation with collaborating institutes. Through these research activities, EORC is building new ocean environmental data sets where satellite observation is integrated with numerical models.