Infrastructure Displacement Monitoring

EORC detects civil engineering infrastructure displacement, utilizing characteristics of satellite observation that can periodically make wide observations using the observation data from the L-band Synthetic Aperture Radar (PALSAR-2) loaded on the Advanced Land Observing Satellite "DAICHI" (ALOS) and "DAICHI 2" (ALOS-2). Based on the results, EORC research contributes to better and much more effective civil engineering infrastructure management performed by national or local governments (Fig. a). JAXA develops and validates the variation in the amount estimation measurements difficult to visualize, in addition to the development of the Permanent Scatters Interferometry Synthetic Aperture Radar (PSInSAR) algorithm, that is the basis of their research. They have confirmed deformities in sections of the harbor facilities by analysis (Fig b) and measurement of sinking river dikes (Fig c).
Infrastructure Displacement Monitoring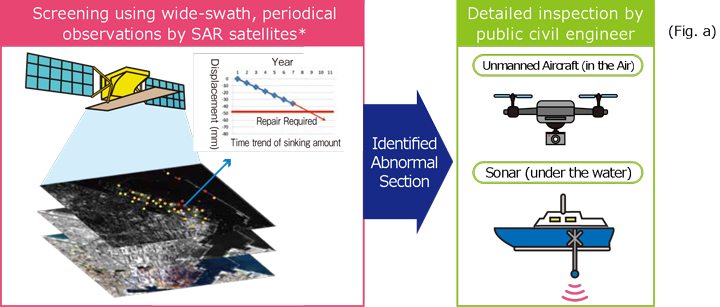 Periodical wide-swath observation using SAR satellites enables us to locate the condition of the changed sections (red circle sections) requiring inspection and narrows down the sections for which detailed inspection is to be performed.

*SAR satellites:Advanced Land Observing Satellite "DAICHI" (ALOS) and "DAICHI 2" (ALOS-2)
Understanding of the Changing Conditions of the Harbor Facilities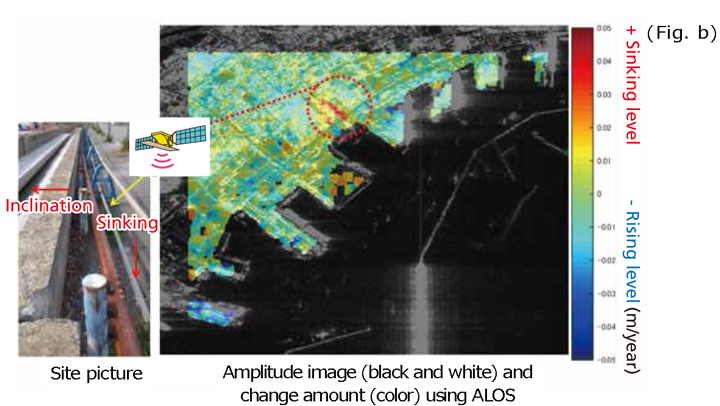 The red circle shows the area with larger minimal sectional change. This area agrees with the one pointed out by the facility manager that would need to be changed.
Understanding of the Changing Conditions of River Banks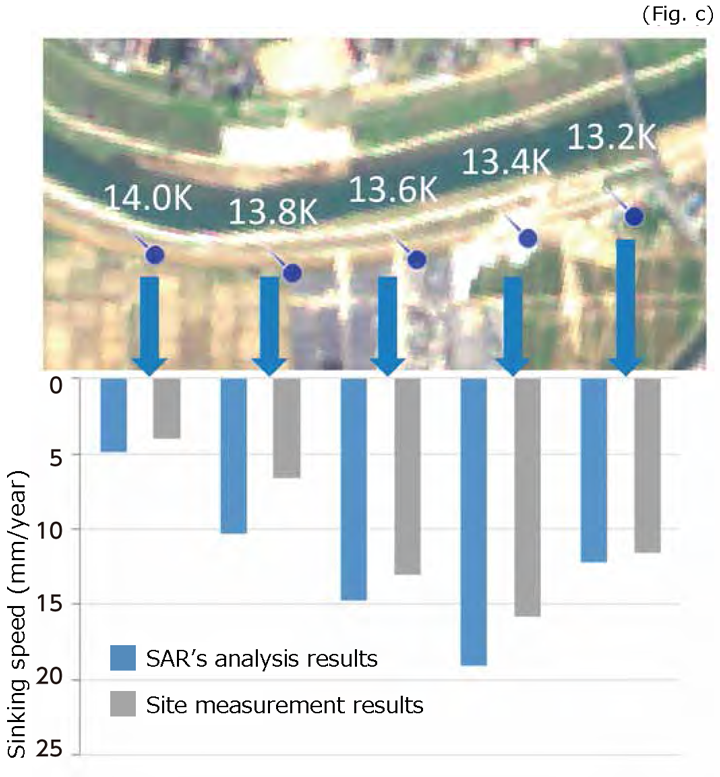 The sinking tendency information is obtained periodically with the Interferometric SAR (InSAR) Time Series Analysis using SAR satellite. Providing such information to the manager is useful for decision-making for preparing a repair plan and inspection plan, etc. The result of the InSAR Time Series Analysis has as much accuracy as the result of the measurement data at the site. With this method, EORC performs research and development to obtain more complete data on the sinking tendency.