Report of the Stakeholder Meeting in Sri Lanka,
March 26, 2018
< Last Update: 9 May 2018 >
Summary
Venue:

Irrigation Department head office building, Sri Lanka
Stakeholder Meeting of Sri Lanka's prototype titled 'Development of Flood Forecasting and data sharing system for Kalu River in Sri Lanka' was held at Irrigation Department (ID) in Sri Lanka on March 26, 2018. 30 participants from Ministry of Irrigation & Water Resources Management, several Branches and Range and Divisions of ID, Disaster Management Center, District Secretariats, Road Development Authority and some other national organizations, International Centre for Hazard and Risk Management (ICHARM), Remote Sensing Technology Center of Japan (RESTEC) and JAXA joined the meeting.
Eng. N.A. Sisira Kumara, Secretary of Ministry of Irrigation & Water Resource Management made welcome address and expressed appreciation especially to representatives from JAXA, ICHARM, RESTEC and all local agencies and institutions as user organizations.
Dr. Ryo Michishita and Mr. Kohei Kawamura on behalf of JAXA explained JAXA's space activities on Earth observation satellite and SAFE overview under APRSAF initiatives. They overviewed the SAFE prototype structure, roles, technical supports, and implementation stakeholder.
Eng. S.P.C Sugeeshwara, executor of the SAFE prototype reported the prototype results and activities for two years. The SAFE prototype to improve monitoring system for floods in Sri Lanka by using GSMaP bias correction has been successfully completed in collaboration with ICHARM. Also, necessary capacity building for staff of ID has been conducted. ID developed a web site to disseminate flood warning message as a trial. After verification for a few actual cases, it will be operational. Following Eng. Sugeeshwara's final report, Dr. Mohamed Rasmy of ICHARM as a technical supporter explained the technical aspects of the prototype. He summarized that data, output sharing and supporting system will be operational in order to disseminate real-time information for beneficiary agencies and to the public. He also expressed the expectation of further steps to upscale the SAFE project in Sri Lanka by establishing a platform on water and disasters in Sri Lanka.
Also, Eng. Thilini Manodya, Irrigation Engineer of Climate Resilience Improvement Project (CRIP) reported the achievements of the Project (e.g. model outputs -2017 flood event) and expected future works toward further improvement of the model. Then, Mr. Dammika Karangoda gave a demo of data sharing/web-based distribution system. In the discussion, participants agreed importance of producing hazard map for local areas in collaboration with survey dept. Further, we shared need to specify the requirement of forecasting lead time for early warning.
Agenda
| Time | Program | PIC / Speaker |
| --- | --- | --- |
| 9:30-9:35 | Welcome Address | Eng. N.A.Sisira Kumara, Secretary of Ministry of Irrigation & Water Resource Management |
| 9:35-9:45 | Self Introduction by each participant | All |
| 9:45-10:00 | Introduction to SAFE Project | Dr. Ryo Michishita and Mr. Kohei Kawamura (JAXA) |
| 10:00-10:15 | Introduction to SAFE Sri Lanka Project | Eng. S.P.C Sugeeshwara (ID) |
| 10:15-10:30 | ICHARM's collaboration with Irrigation Department | Dr. Mohamed Rasmy (ICHARM) |
| 10:30-10:45 | Achievements of the Project (Outcomes) | Eng. Thilini Manodya (ID) |
| 10:45-11:00 | Data sharing system, the current situation and future developments | Mr. Dammika Karangoda (ID) |
| 11:00-12:00 | Feedback from the participants | |
| 12:00-12:05 | Closing Remarks | |
Photographs
Stakeholder Meeting in ID
Opening remarks (Eng. N.A. Sisira Kumara, Secretary of Ministry of Irrigation & Water Resource Management)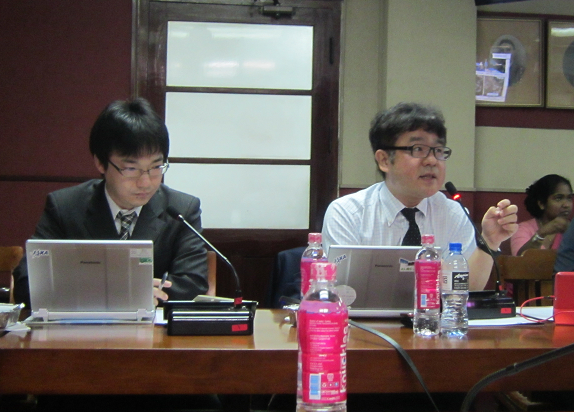 Introduction to SAFE Project (Dr. Ryo Michishita and Mr. Kohei Kawamura, EORC/JAXA)
Introduction to SAFE Sri Lanka Project (Eng. S.P.C Sugeeshwara, ID)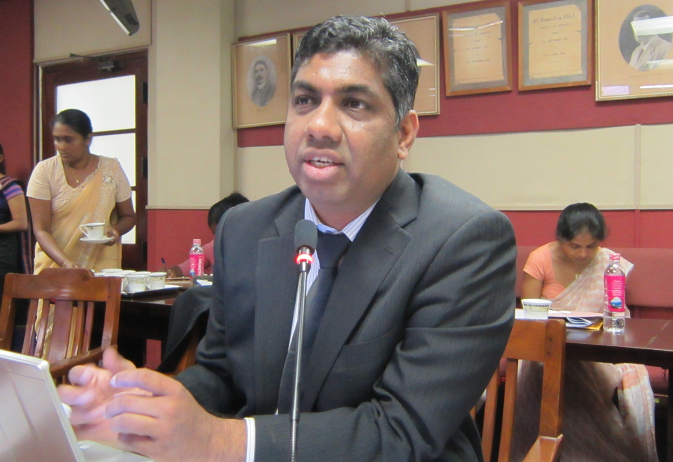 ICHARM's collaboration with Irrigation Department (Dr. Mohamed Rasmy, ICHARM)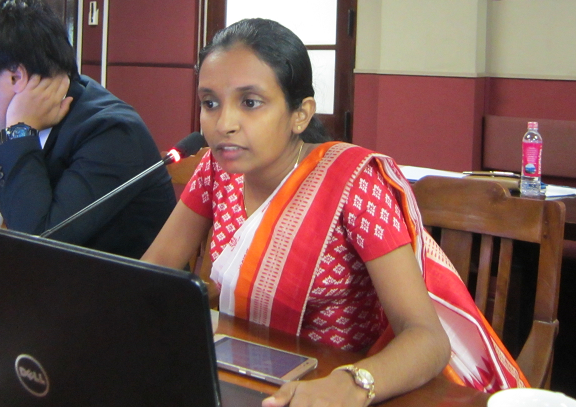 Achievements of the Project (Outcomes) (Eng. Thilini Manodya, ID)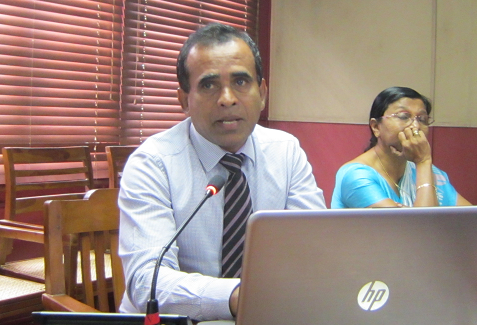 Data sharing system, the current situation and future developments (Mr. Dammika Karangoda, ID)
Gift Exchange