Report of the Stakeholder Meeting in Cambodia,
February 23, 2018
< Last Update: 3 Apr. 2018 >
Summary
Venue:

Department of Planning and Statistics (DPS), Ministry of Agriculture, Forestry and Fishery (MAFF), Phnom Penh, Cambodia
Stakeholder Meeting of Cambodia's prototype titled 'Promote rice planted area and production estimation using space based technologies' was held in DOS's office at Cambodia on February 23, 2018. 17 participants from several departments of DPS, Asian Institute of Technology (AIT), Remote Sensing Technology Center of Japan (RESTEC) and JAXA joined the meeting. Following the stakeholder meeting, half-day Mini Hands-on Training was conducted in DPS.
His Excellency Mam Amnot, the Secretary of State, Ministry of Agriculture Forestry and Fisheries (MAFF) made opening speech and welcomed to all participants. He wished for having fruitful discussion and continued supports to DPS.
Dr. Ryo Michishita on behalf of JAXA and working team, expressed the appreciation to DPS supports and activities achievement for 2 years on the SAFE prototype project. He briefly explained the SAR characteristics, advantage of using SAR under the climate conditions. He further introduced the future plan of ALOS-3 with optical sensor and ALOS-4 producing SAR products with wider range areas compare to ALOS-2.
Mr. Kohei Kawamura of JAXA, offered a presentation about SAFE under APRSAF initiatives. He overviewed the SAFE prototype structure, roles, technical supports, and implementation stakeholder. He briefly explained the main objective of SAFE contribution to environmental activities i.e., crop monitoring, haze monitoring in Asia Pacific region by enhancing the capability using satellite space technology.
Ms. Sotheavy Meas, Deputy Director of DPS, reported prototype results and activities for two years including three-trainings and meetings. DPS successfully implemented the verification for the accuracy assessment in the pilot area (Battambang province). The team validated the results generating from INAHOR with the statistical data and field survey. The accuracy shows promising at the province level.
In the discussion, His Excellency Mam Amnot showed his interest in the application of using satellite technologies to monitor the rice mapping areas. In the policy management level, the needs of the knowledge not limited to only agriculture but also disaster management, environmental activities and land policy. Therefore, he would like to sustain the project in the Ministry. Dr. Kei Oyoshi of JAXA and Mr. Shoji Kimura of RESTEC emphasized that INAHOR and satellite-based detection does not aim to replace statistical approaches but to support and validate statistical records. DPS agreed to continue validation framework to verify if INAHOR and satellite-based technology can support their actual activities. During the limited trial period of validation framework done by DPS, JAXA will continue to support and share the knowledge. Mr. Kimura suggested that DPS might select one or two provinces to validate accuracy and estimate cost and labor for operating scheme.
Agenda
| Time | Program | PIC / Speaker |
| --- | --- | --- |
| 9:30 - 9:40 | Opening Remarks | His Excellency Mam Amnot (MAFF) |
| 9:40 - 9:50 | Self-Introduction and Group Photo | All |
| 9:50 - 10:05 | Introduction of remote sensing applications and SAFE initiative | Dr. Ryo Michishita and Mr. Kohei Kawamura (JAXA) |
| 10:05 - 10:20 | SAFE prototype overviews and results | Ms. Sotheavy Meas (DPS) |
| 10:20 - 10:30 | Comments by His Excellency Mam Amnot | His Excellency Mam Amnot (MAFF) |
| 10:30 - 10:50 | Discussion for future activities | All |
| 10:50 - 11:00 | Wrap-up of stakeholder meeting | All |
| 11:00 - 11:05 | Closing Remarks | His Excellency Mam Amnot (MAFF) |
| | Group Photo | |
Photographs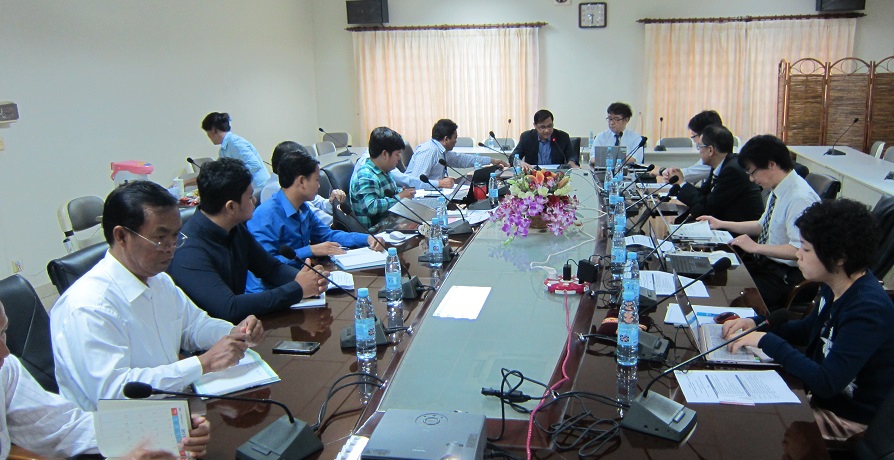 Stakeholder Meeting in DPS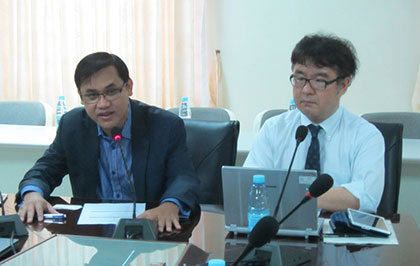 Opening remarks (His Excellency Mam Amnot, MAFF)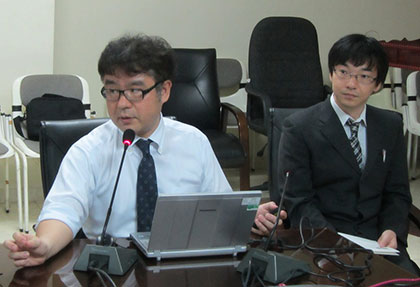 Introduction of remote sensing applications and SAFE initiative
(Dr. Ryo Michishita and Mr. Kohei Kawamura, EORC/JAXA)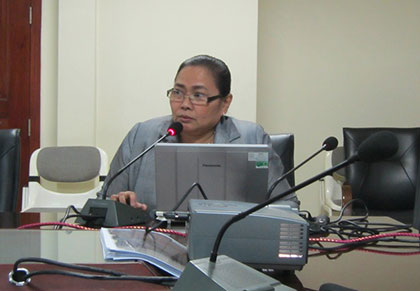 SAFE prototype overviews and results (Ms. Sotheavy Meas, DPS, MAFF)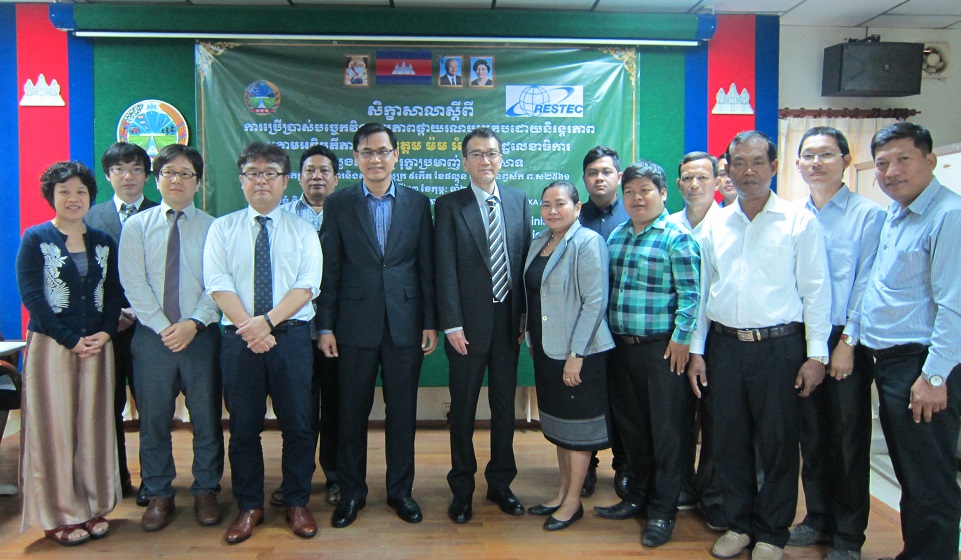 Group Photo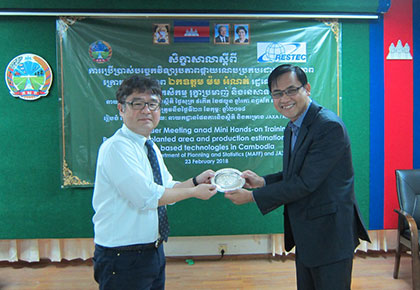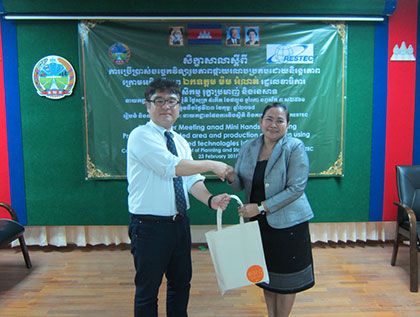 Gift Exchange