Stakeholder Meeting in Malaysia, March 8, 2017
< Last Update: 22 Mar. 2017 >
Summary
Venue:

Menara Felda, Kuala Lumpur, Malaysia
Stakeholder Meeting of Malaysia's prototype was held in Kuala Lumpur on March 8, 2017. 18 participants including FGVR&D & FASSB, Universiti Putra Malaysia (UPM), University of Tokyo, Keio University and JAXA joined the meeting.
Mr. Syed Salim Syed Ali, Head of R&D and Agri Services Cluster, FGV R&D and Agri Services Cluster opened the floor for the meeting. He expressed his appreciation for JAXA, University of Tokyo and Keio University which supported this prototype. He also stated their expectation that the outcome of the prototype would help the Felda activities.
Ms. Haryati Abidin (FGVRD) reported their prototype's current results 'Efficient Oil Palm Management Prototyping Using 3D GIS for Replanting'. In GNSS study part, they measured and compared the positioning accuracy of Single-GNSS, Multi-GNSS, RTK-Multi-GNSS, and UHF RTK-Multi-GNSS in target field (oil palm plantation). They found customized u-blox (Multi-GNSS device) system with radio link is suitable to be applied for replanting process in terms of accuracy, cost, and usability. In Remote Sensing study part, they calculated the palm count manually from UAV image to know the actual palm stand. Also, they used GSMaP (satellite based hourly precipitation map) to gain rainfall information and AW3D (satellite based digital surface model) data to capture palm height and terrain structure. As other findings using ALOS-2/PALSAR-2 image, they investigated age and yield of fresh fruit bunches of oil palm and Ganoderma infected trees.
In this stakeholder meeting, participants shared importance of adaptation of these new technologies to operational use especially reflection to design of their Blueprint. The participants agreed to try to integrate space technology with Blueprint 2018 and compare the new technologies to traditional way. They expect to improve their activities especially in replanting work in design, Pre-lining, terrace lining, palm lining and lead to cost efficiency. They also agreed to continue to study further use of space technology to apply it to their management. In the rest of the SAFE prototype period, they will check the availability of PALSAR-2 and Sentinel-1 data for detection of missing trees in their fields.
Agenda
Chair: Mr. Syed Salim Syed Ali
11:00-12:00
Presentation of the latest progress of the project: Efficient Oil Palm Management Prototyping Using 3D GIS for Replanting
Ms. Haryati Abidin (FGVRD)
12:00-13:00
Discussion on the project progress
All
14:00-15:00
Discussion on the future plan for the prototype
All
Photographs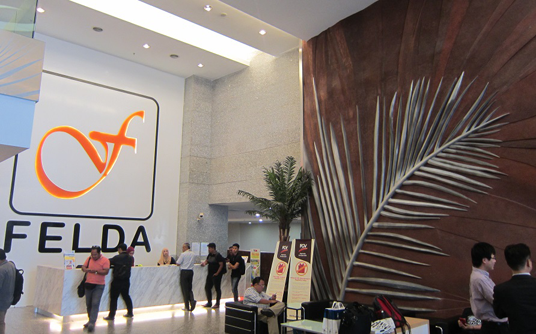 Stakeholder Meeting in Malaysia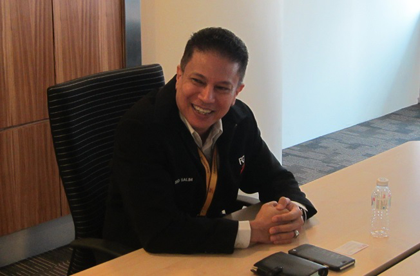 Opening remarks
(Mr. Syed Salim Syed Ali, Head of R&D and Agri Services Cluster, FGV R&D and Agri Services Cluster)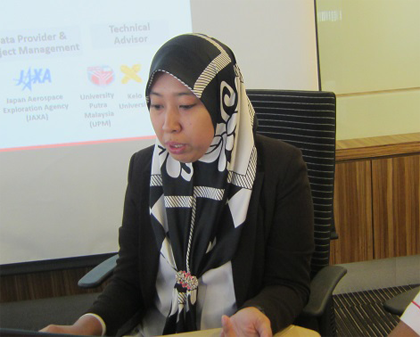 Report of Malaysia SAFE prototype - Efficient Oil Palm Management Prototyping Using 3D GIS for Replanting (Ms. Haryati Abidin, FGVRD)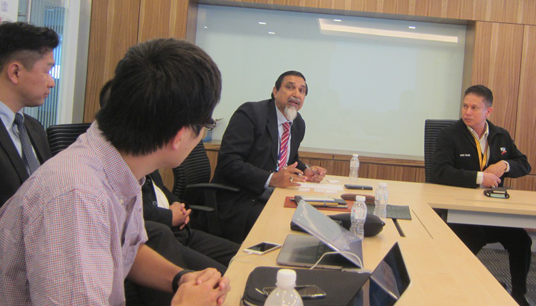 Discussion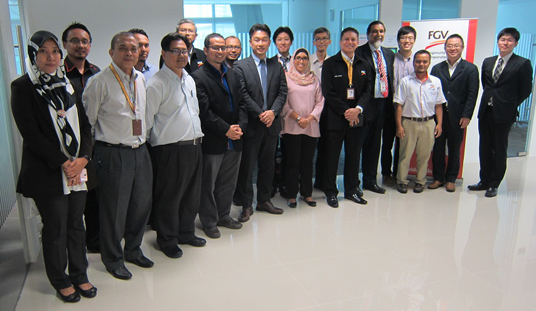 Group Photo