Stakeholder Meeting in Malaysia, April 29, 2015
< Last Update: 14 May 2015 >
Summary
Venue:

Dewan Pertanian, Fakulti Pertanian, Universiti Putra Malaysia (UPM), Kuala Lumpur, Malaysia
Stakeholder Meeting of Malaysia's prototype was held in Kuala Lumpur on April 29, 2015. 18 participants from 9 organizations, including Federal Land Consolidation and Rehabilitation Authority (FELCRA), National Space Agency of Malaysia (ANGKASA), District and Land's Office of Sungai Siput, and Malaysian Rubber Board, joined the meeting.
Prof. Dr. Mahmud T. Muda Mohamed on behalf of Prof. Dr. Abd. Shukor Juraimi, Dean of Faculty Agriculture, UPM opened the floor for the meeting. He expressed his appreciation for JAXA, University of Tokyo and other organizations which supported this prototype. He also stated their expectation that the outcome of the prototype would help the government activities. Following Dr. Mohamed's remark, Mr. Chu Ishida, Senior Chief Officer of Satellite Applications, JAXA gave an opening address. He touched on JAXA's launch of GPM and ALOS-2, and expressed his deep condolences for the catastrophe of the earthquake in Nepal. He closed his speech with his expectation that this prototype would lead to operational use.
Mr. Muhammad Hafiz Abdul Razak, Geospatial Manager, FELCRA introduced FELCRA's GIS activities. He emphasized that efficient management of abandoned agricultural land is quite important in Malaysia and FELCRA's R&D division tries to improve the management. He also mentioned his expectation of use of satellite data for their efficient management.
After introduction of SAFE Overview presented by Mr. Ko Hamamoto, EORC/JAXA, Dr. Farrah Melissa Muharam, UPM reported the final results and outcome of their SAFE prototyping about Monitoring of Agricultural Land Abandonment Using Remote Sensing. She reported the completion of the prototype and build-up training for human skill will be conducted in near future. In her report, she mentioned that she developed method of classification for agricultural land abandonment of oil palm, rubber, paddy, and forest by using satellite data of Landsat and ALOS/PALSAR. She also mentioned that her group applied Eigenvector-eigenvalue decomposition and also the three-component power decomposition for polarimetric SAR of ALOS/PALSAR called Freeman Decomposition to improve the classification. In conclusion, she expressed a preference of further discussion on future operational use and its process flow with Department of Agriculture and other related organizations. Following her report, Dr. Wataru Takeuchi, University of Tokyo made his comments from technical supporter's point of view. He indicated a willingness to use other satellite data like ALOS-2 and TerraSAR-X and also to use texture based analysis to improve the study. He also indicated possibility of future incorporation of 4 or 5 component as improving Freeman Decomposition with new software development.
Mr. Muhammad Hafiz Abdul Razak, Geospatial Manager, FELCRA responded to Dr. Farrah Melissa Muharam's study result;
- FELCRA will try to promote capacity building for GIS staff, possibility of commercial use of the result, and use as geo-database.
- Afterward, he will report this result to senior management of FELCRA and discuss toward their business use.
In this stakeholder meeting, participants shared need of improvement on this classification method and importance of future commercialization. For this purpose, we have to establish implementation mechanism for operational use and share the model with stakeholders at state level. ANGKASA is able to take a role of training for universities and local organization in Malaysis continuously in cooperation with JAXA and promote utilization of results as an operational-use platform.
Agenda and Presentation Materials
Moderator: AP Dr. Ahmad Husni Mohd Hanif
9:00-9:10
Opening Remarks from UPM
(Prof. Dr. Mahmud T. Muda Mohamed, Deputy Dean, UPM)
9:10-9:15
Opening Remarks of JAXA (Mr. Chu Ishida, Senior Chief Officer of Satellite Applications, JAXA)
9:15-9:30
Introduction speech from FELCRA (Mr. Muhammad Hafiz Abdul Razak, Geospatial Manager, FELCRA)
9:30-9:45
SAFE overview and outcome of APRSAF-21 (Mr. Ko Hamamoto, SAFE secretariat, EORC, JAXA)
9:45-10:15
Malaysia SAFE prototype - Monitoring of abandoned agriculture land using remote sensing (Dr. Farrah Melissa Muharam, UPM)
10:15-10:30
Technical comments from technical supporter (Dr. Wataru Takeuchi, University of Tokyo)
10:30-10:45
Break
10:45-11:00
Introduction of related activity or vision of operational use of SAFE prototyping result from Stakeholders (Mr. Muhammad Hafiz Abdul Razak, Geospatial Manager, FELCRA)
11:00-12:00
Discussion for the operational and sustainable use of SAFE prototyping results (Coordinated by Dr. Lal Samarakoon, GIC, AIT)
12:00-12:05
Closing Remarks (AP Dr. Ahmad Husni Mohd Hanif)
12:05-
Group Photo
Photographs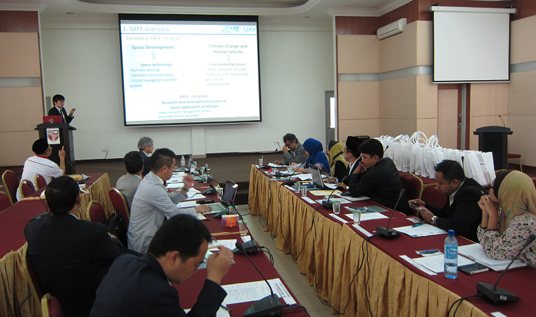 Stakeholder Meeting in Malaysia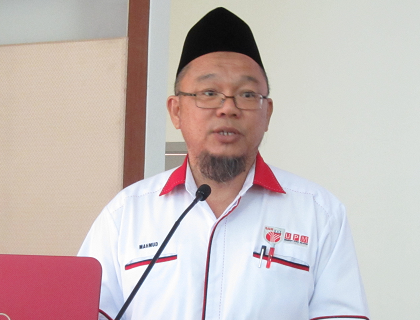 Opening remarks (Prof. Dr. Mahmud T. Muda Mohamed, Deputy Dean, UPM)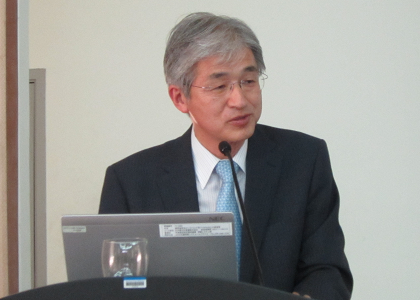 Opening remarks (Mr. Chu Ishida, Senior Chief Officer of Satellite Applications, JAXA)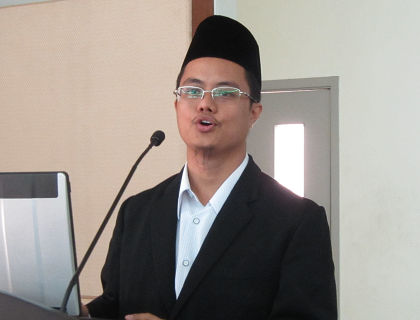 Introduction speech from FELCRA (Mr. Muhammad Hafiz Abdul Razak, Geospatial Manager, FELCRA)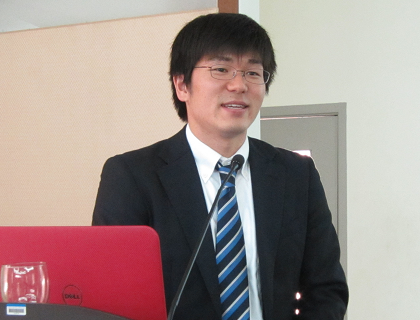 SAFE overview and outcome of APRSAF-21 (Mr. Ko Hamamoto, SAFE secretariat, EORC, JAXA)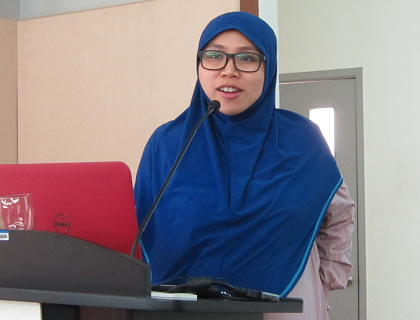 Malaysia SAFE prototype - Monitoring of abandoned agriculture land using remote sensing (Dr. Farrah Melissa Muharam, UPM)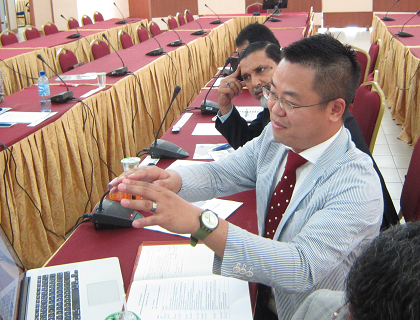 Technical comments from technical supporter (Dr. Wataru Takeuchi, University of Tokyo)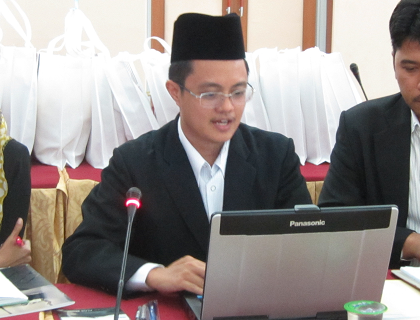 Introduction of related activity or vision of operational use of SAFE prototyping result from Stakeholders (Mr. Muhammad Hafiz Abdul Razak, Geospatial Manager, FELCRA)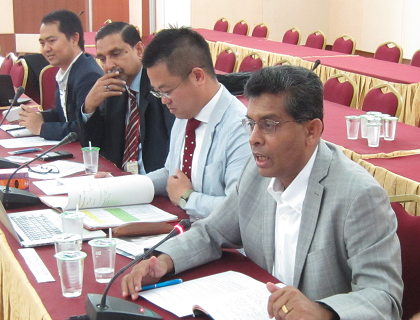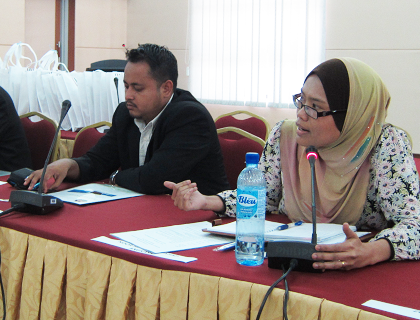 Discussion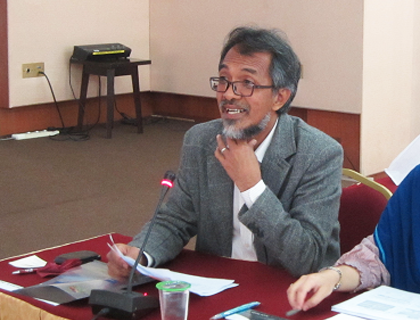 Closing Remarks (AP Dr. Ahmad Husni Mohd Hanif)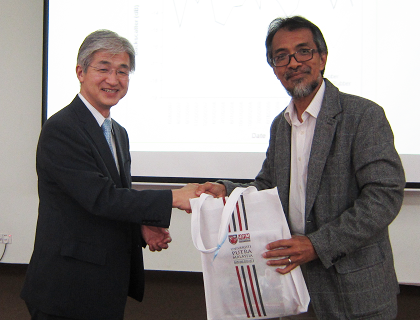 Exchange the Gifts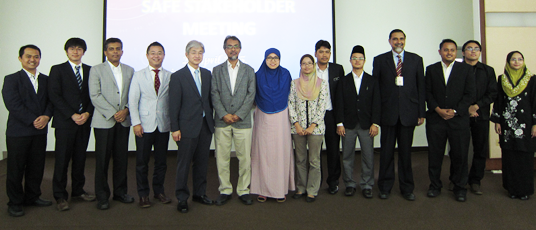 Group Photo