Report of the SAFE Workshop in APRSAF-19 Kuala Lumpur, Malaysia
< Last Update: 18 Jan. 2013 >
The SAFE Workshop in APRSAF19 was successfully and fruitfully finished at the Berjaya Times Square Hotel in Kuala Lumpur, Malaysia held on Dec 10. After the workshop, the result was reported to the Earth Observation Working Group and the Plenary session which held continuously from Dec 11 to 14.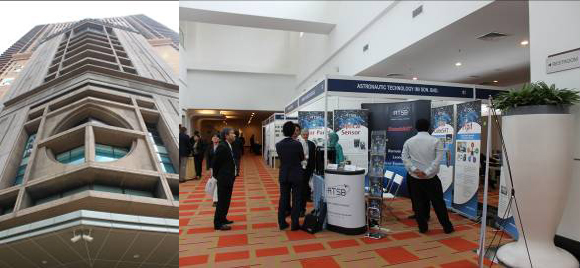 The participant became total 52 from several countries and int. organizations, and was conducted by co-chairs from Dr. Abdul Rashid Mohd. Shariff, UNIVERSITI PUTRA Malaysia (UPM) and Dr Shin-ichi Sobue, Planning manager, EORC/JAXA.
In the workshop, 2 new SAFE prototype proposals were reviewed and 8 on-going prototypes including 4 prototypes, which would be completing duration defined for 2years in the SAFE TOR, are reported.
And Recommendation for the SAFE initiative was concluded like the below;
● RECOMMENDATIONS
[SAFE (Space Applications For Environment)]
Welcome the new Indonesian prototyping for assessment of Mangrove Forest Carbon Stock Monitoring, and recognize good progress of SAFE ongoing prototyping and completion of SAFE prototyping, especially PMD prototyping completion and interest of donor agencies to go forward to implement operational use of SAFE prototyping.
Accept EOWG's proposal to continue and promote SAFE prototyping and to promote results for practical use at stakeholders meetings and international conferences such as ACRS, ISTS, etc. to encourage donor agency interest.
Understand the necessity of EO data continuity in moving forward in the practical use of satellite data in support of EO WG participants' earth observation satellite missions.
Workshop Report from secretariat
- 2 new prototype proposals reviewed:
Mangrove Forest Carbon Stock Monitoring (LAPAN, Indonesia)
Drought monitoring on the basic of groundwater monitoring system (WRUD, Myanmar)
- Progress reports from on-going prototypes:
Mapping and change detection of wetlands in SE river basin in Sri Lanka using optical and PALSAR remote sensing (CEA, Sri Lanka)
Assessment of drought impact on rice production in Indonesia by satellite remote sensing and dissemination with web-GIS (ICALRD, Indonesia)
Water & Food Security under Climate Change (MOWRAM, Cambodia)
Investigation of sedimentation process and stability of the area around the cross-dams in Meghna estuary (LGED, Bangladesh)
Monitoring Water Cycle Variations and Assessing Climate Change Impacts on them in Pakistan/ Flood in Pakistan (PMD, Pakistan)
Use of satellite data derived ocean color & SST information for Thailand fisheries (DOF, Thailand)
Modeling ocean frontal zones using high resolution satellite and float data to locate tuna fish aggregations in Sri Lankan waters (NARA, Sri Lanka)
Carbon stock calculations & forest change assessment towards REDD+ for mangroves (FIPI, Vietnam)
Result of Reviewing New Proposals
| | | |
| --- | --- | --- |
| 1 | Mangrove Forest Carbon Stock Monitoring (LAPAN, Indonesia) | QUALIFIED APPROVAL |
| 2 | Drought monitoring on the basic of groundwater monitoring system (WRUD, Myanmar) | FURTHER DEVELOP |
Reviewer's comments
1. Mangrove Forest Carbon Stock Monitoring (LAPAN, Indonesia)
- Subject to clarification of the operational and policy needs within Indonesian government user agencies and linkages to many existing carbon accounting initiatives in country
- Confirm lessons learned from Vietnam mangrove project of SAFE using polarimetric SAR and ensure necessary linkages
2. Drought monitoring on the basic of groundwater monitoring system (WRUD, Myanmar)
- Request that the proposal be considerably more defined in approach and objectives
- Propose expert meeting for definition and planning and to establish clarity in the proposal
Progress report and results on Ongoing Prototypes
Completing prototyping
1. Thailand (Fish larvae distribution maps)
- Confirmed successful conclusion of prototype
- Utility of satellite data proven including in partnership with user agencies
- Anticipate supply of GCOM-C data for operational use
- Asked to hold stakeholders meeting with oceanographer, biologist & fishermen to get feedback
- Will present results to ISTS 2013
2. Sri Lanka (Tuna fish detection)
- Satellite potential for subsurface temperature estimation demonstrated
- Stakeholders meeting planned for Q1 2013 - to show final analysis results
- Will present results to ISTS 2013
3. Vietnam (Mangrove forest carbon)
- Confirmed successful conclusion of prototype
- Suggested promotion meeting to communicate results to user community in 2013
- Requested to give feedback results to ISTS
4. Pakistan (Water cycle variations)
- Confirmed successful conclusion of prototype
- Stakeholders meeting was help Sep 2012
- JICA and EU/CCAF shown interest to provide financial support for operational phase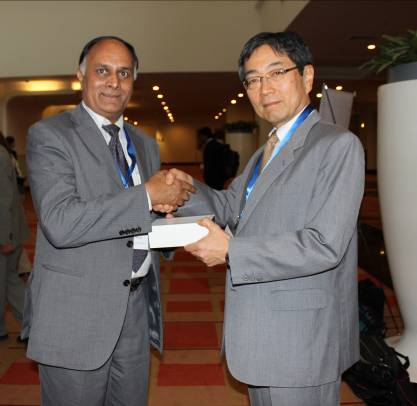 On-goings
1. Sri Lanka (Wetlands mapping & change detection)
- Confirmed progress
- Field map and verification work undertaken
- Preliminary ranking of priority areas with stakeholders
- Wide area effect (~100km) to be studied
2. Indonesia (Drought impact on rice production)
- Confirmed progress
- Range of prototype products from satellite data sources shown
- Requested to report on feedback from user stakeholders @ next SAFE WS
- Asked to demonstrate relationship between KBDI and crop calendar
3. Cambodia (Drought impact on rice production)
- Confirmed progress
- Implementation Plan developed per the Perth SAFE WS recommendation
- Planning Near-Real Time Data Correction of GSMaP by Rain- Gauges
- Soil moisture estimation undertaken from PALSAR and AMSR-E data
- Done climate change impact assessment on rainfall, and applied hydro-crop model to this region
- Asked to define future milestones related to SAFE & GRENE project
4. Bangladesh (Sedimentation & stability)
- Confirmed progress
- Asked to study tidal effects and morphological changes
By those of report, prototyping line-up was updated like:
Status
Countries
Prototyping Title
Success
Story
Vietnam
Integrated water resource management
Vietnam
Forest monitoring
Lao PDR
Forest monitoring and management
Cambodia
Water Cycle and Agricultural Activities
Pakistan
Monitoring Water Cycle Variations & Assessing Climate Change Impacts
Completed
Sri Lanka
Risk of Sea Level Rise on Coastal Zone
Indonesia
Potential Drought Monitoring
Vietnam
Mangrove Forest Mapping and Carbon Stock Estimation
Thailand
Economic Fish Larvae Mapping and Monitoring
Sri Lanka
Modeling ocean frontal zones using high resolution satellite and float data to locate tune fish aggregations
On-going
Sri Lanka
Mapping and Detecting Wetlands in River Basin
Indonesia
Assessment of drought impact on rice production in Indonesia by satellite remote sensing and dissemination with web-GIS
Cambodia
Water and Food Security under the Climate Change
Bangladesh
Investigation of sedimentation process and stability of the area around the cross-dams in Meghna estuary
Approved
Indonesia
The assessment of Mangrove Forest Carbon Stock Monitoring of Indonesia using Remote Sensing Approach
≫ Agenda and Presentation materials
≫ Photos