The 3rd SAFE Workshop at Vientiane, Lao PDR
< Last Update: 22 Jun. 2011 >
The 3rd SAFE workshop was successfully held on the 16-17th, June 2011 in Lao PDR, participants were total 71 people (32 from international and 39 from local) from over 10 countries.
At the workshop, 8 on-going prototypes was reported by executor, including via Skype reported by Jagath, NARA and then prototypes by Laos and Cambodia were confirmed the successful completion by general chairs.
Also, Climate Change Office (CCO/WREA) of Laos and JICA office in Laos gave a presentation as special session, for climate change in Laos.
CONCLUDING
FINDINGS
Recognize the benefit of inter-agency and multi-agency collaboration in SAFE prototyping.
Recognize the requirements for L-Band SAR and optical sensors continuity for SAFE prototyping especially for mangrove observation in Viet Nam, coastal monitoring in Sri Lanka, and other prototypes, and expect ALOS-2 and ALOS-3 earlier launching.
RECOMMENDATIONS
Encourage information exchange between ODA agencies and space agencies through SAFE activities, especially through SAFE workshop
Be important to have stakeholder meeting before completion of SAFE prototyping.
Lastly, to hold APRSAF-18 is announced by CRISP as host country.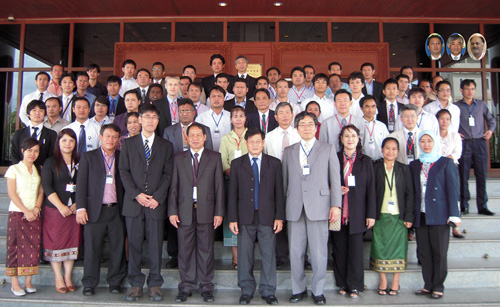 In the night of 1st day, the welcome reception hosted by WREA, was warmly had at Kua Lao restaurant, all participants enjoyed Lao traditional food and dances, and also singing time. I believe SAFE member must get the opportunity to hear Singapore song finally at the next SAFE workshop in Singapore.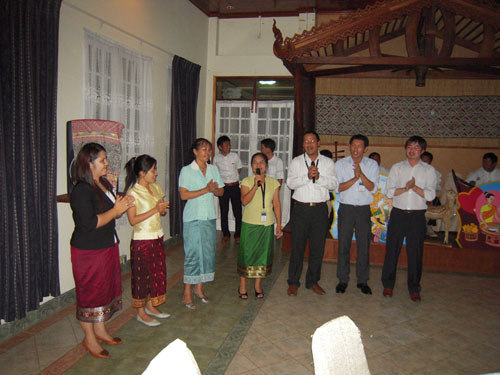 The 3rd SAFE Workshop Conclusion and Report to EOWG at APRSAF-18
Report from 3rd SAFE WS
Recognize the importance and expectations for satellite data for forest and water resources management in Lao PDR, which could contribute to its management plan as scientific evidences.
Recognize efforts of Lao PDR to develop national strategy for climate change adaptation and mitigation, and to elaborate it to Action Plan; and its expectation to utilize satellite data for climate change issues.
Recognize JICA capacity building activities in Lao PDR, and possibility to continue information exchange between SAFE prototyping and JICA projects.
Recognize the available MODIS regional Land Use products for SAFE prototyping by CRISP (downloadable at SAFE web portal).
Confirm the excellent progress of 8 ongoing prototyping (Lao PDR Forest Monitoring; Indonesia Drought Monitoring; Sri Lanka Sea Level Rise; Vietnam Mangrove Monitoring; and Thailand Fish Monitoring; Cambodia Water Cycle Management; Pakistan Monitoring Water Cycle & Climate Change; Sri Lanka Ocean Frontal Modeling).
Progress of Ongoing Prototypes
Lao PDR (Forest)
Confirm the completion of forest management database development (outcome of 2-year prototyping)
Recognize the benefit of inter-agency collaboration in Lao PDR
WREA/WERI to implement outreaching activities in the next 6 months and report the result to APRSAF-18)
Indonesia (Drought Monitoring)
Confirm the excellent progress including the identification of end-user (Ministry of Agriculture)
Confirm the roadmap for completion of prototyping incl. delivery of monthly drought prediction in Java Island as the MoA needed using the integration of KBDI with rainfall prediction by APRSAF-18.
Sri Lanka (Coastal Monitoring)
Confirm the excellent progress and next steps incl. future predictions of sediment budgets and morphology change (southwest); and dissemination of results (Stockholder workshop)
Viet Nam (Mangrove)
Confirm the excellent progress and findings of counterpart (mangrove research center)
Confirm the next steps incl. survey of southern target area.
Thailand (Fishery)
Confirm the excellent progress incl. database development
Confirm the next steps incl. data correlation analysis for fish larvae and expansion of database into Gulf of Thailand.
Cambodia (Water Cycle & Agriculture)
Confirm the completion of prototyping and preparation of final report to APRSAF 18.
Consider to make a new proposal to follow up this successful prototyping result.
Pakistan (Water Cycle & Climate Change)
Appreciation for JAXA and University Tokyo cooperation to last year flood damage mitigation in Pakistan by using ALOS
Confirm the excellent progress of each component; and expect further progress of prototyping.
Sri Lanka (Ocean Frontal Modeling)
Confirm the excellent progress incl. preparation of data (SST, SSHA, vertical temperature profiles, fishery data) ready for modeling exercises.
Consider to ensure the participation of Department of Fishery to planned stakeholder meeting.
The report of the 3rd SAFE workshop / Venue: LAO PLAZA Hotel
DAY-1 June 16, 2011 9:00 - 16:50
Ms. Virany Sengtianth (WREA/WERI)
Dr. Shinichi Sobue (EORC/JAXA)
Time
Agenda Item(s)
9:00-9:30
Registration
Opening of the session
9:30

Welcome Talk and Remarks by the General Co-Chairs

Mr. Sangkhane Thiangthammavong, Deputy Director General, WERI

Mr. Toru Fukuda, EORC/JAXA

Mr. Bounneuang Nouthpathong Cabinet, WREA Permanent Secretary
* On behalf of Mr. Sisavath Vithaxay, Deputy Head of WREA

Self-Introduction
Adoption of the agenda
SAFE Overview and APRSAF-17 SAFE WS report

Mr. Tomoyuki Nukui, EORC/JAXA

10:30-10:45
(Coffee Break)
10:45-11:00
Photo Session@ Entrance of Hotel
Special Session - Climate change initiatives
11:00-11:30

Climate Change Status in Lao PDR

Mr. Amphayvanh Oudomdeth, Climate Change Office, Department of Environment, WREA

11:30-12:00

250m resolution regional land cover maps for insular Southeast Asia in 2000 and 2010

Dr. Jukka Miettinen, The Centre for Remote Imaging, Sensing and Processing (CRISP) , National University of Singapore (NUS)

12:00-13:30
(Lunch)
Special Session - Climate change initiatives (Cont.)
13:30-14:00

Japan's Projects in the Forestry Sector and its utilization of satellite information in Lao PDR

Mr. Kota Hiranuma, JICA

Mr. Masamichi Haraguchi, Kokusai Kogyo Co ltd.

Contribution from ongoing prototyping
14:00-14:20

Lao PDR: Forest Monitoring

Mr. Virasith Phomsouvanh, Remote Sensing Center, WERI

14:20-14:40

Sri Lanka: Assessment of Reliability of Fairly Accessible Data & Tools for Analyzing Impacts of Climate Change on Coastal Zone

Mr. Eng. BANDULA Wickramarachchi, CCD

14:40-15:10

(Coffee Break)

15:10-15:30

Indonesia: Potential Drought Monitoring over Agriculture Area in Java Island, Indonesia

Ms. Parwati Sofan, LAPAN

15:30-15:50

Vietnam: Carbon stock calculating and forest change assessment towards REDD+ activities for the mangrove forest in Vietnam

Mr. Dien Tien Vu, FIPI/MARD

15:50-16:10

Thailand: Economic Fish Larvae Mapping and Monitoring in the gulf of Thailand

Dr. Phutchapol Suvanachai, Department of Fisheries

(Including Discussion, Q&A 20mins)

16:10-16:30
Break
15:50-16:10
18:30
Reception Dinner Hosted by WREA
DAY-2 June 17, 2011 8:30 - 11:30
Ms. Virany Sengtianth (WREA/WERI)
Dr. Shinichi Sobue (EORC/JAXA)
Time
Agenda Item(s)
8:30-9:00
Registration & Welcome Coffee
Opening of the session
9:00

Report of the Day 1 discussion
Revision of the agenda
Self-introduction for new participants

Contribution from ongoing prototyping (Cont.)
9:20-9:40

Cambodia: Water Cycle and Agricultural Activities during the Post-Monsoon Season in the Stung Sangker River Basin and Wider Area in the Western Cambodia

Mr. So Im Monichoth, MWRM

9:40-10:00

Pakistan: Monitoring Water Cycle Variations and Assessing the Climate Change Impacts on them in Pakistan

Mr. Rasul Ghulam, PMD

10:00-10:20

Sri Lanka: Modeling ocean frontal zones using high resolution satellite and float data to locate tuna fish aggregations in Sri Lankan waters

Mr. Jagath Rajapaksha, NARA (Report by Skype) * via Skype

(Including Discussion, Q&A 20mins)

10:20-10:40
Break
Concluding Session
10:40

APRSAF-18 introduction (CRISP)

Adoption of the conclusions and report to EO working group at APRSAF-18 / Wrap up

Closing remark by General Co-Chairs

11:30
Adjourn