Wrap-up Meeting on FOREST COVER MAPPING in Vietnam as a SAFE PROTOTYPING
< Last Update: 11 Nov. 2010 >
The wrap-up meeting on FOREST COVER MAPPING in Vietnam as the SAFE (Space Application For Environment) PROTOTYPING of Term 1 was held with the MARD/FPD on Nov. 3, 2010 at their office in Vietnam.
The aim of this prototyping is to enhance the accuracy of forest cover mapping using ALOS AVNIR2 data-set. The project started in June 2006 and ended in June 2010.
The general manager and the other concerned participants attended the meeting.
(Upper left: Memorial photo in front of the MARD; Upper right: Mr. Nguyen Hong Minh, the leader of this project;Lower left: Dr. Nguyen Hong Minh planning the new prototyping; Lower right: Dr. Doan Hoai Nam, the person in charge of the prototyping)
Present at this meeting from JAXA were Dr. Toru Fukuda, director of EORC; Shin-ichi Mizumoto, director of JAXA Bangkok Office; and Tomoyuki Nukui, associate senior engineer of EORC. Also present were associate professor Wataru Takeuchi of the University of Tokyo, Dr. An Ngoc Van, and Dr. Oo Sann Kyaw (as a technical supporter).
At the wrap-up meeting, the results of FOREST COVER MAPPING were reported, followed by a presentation by Dr. Dien on "GRASP AND MANAGE CARBON STOCK OF MANGROVE WOOD", which is hoped to be adopted as the new prototyping at SAFE workshop in APRSAF-17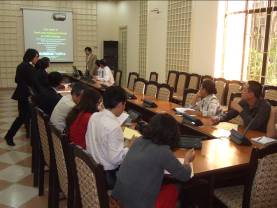 Much of the Vietnamese media joined the meeting to conduct interviews. The meeting was also the first item on the 6:30 pm news that day.
<Interviewers>
-. Viet Nam National TV: Broadcast at noon on Nov. 4.
-. Hanoi TV: Broadcast at 6:30 on Nov. 3.
-. Voice of Vietnam (Radio)
-. Pioneer Newspaper
-. Culture Newspaper

(Clockwise from upper left: EORC Director Toru Fukuda being interviewed; the interview setup; the Hanoi TV broadcast on Nov. 3; and the second broadcast by Hanoi TV on Nov. 3.)
The meeting confirmed strong cooperation between JAXA and FIPI and should prove to be a great opportunity for upcoming prototypeing.
The achievements and results of FOREST COVER MAPPING will be presented at APRSAF-17.
(Photo: Closing the meeting with a firm handshake)