About SAFE Agromet Project
Agromet project in APRSAF/SAFE aims to provide high-quality space-based agrometeorological (agromet) information including extreme events such as flood or drought for end-users to evaluate rice crop growth. To implement this SAFE Agromet project, it is crucial to have various space based agromet information from Asian space organizations.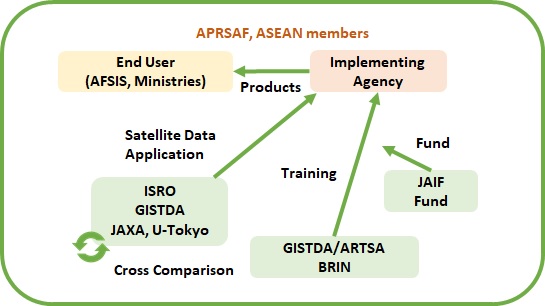 ISRO: Indian Space Research Organisation
GISTDA: Geo-Infomatics and Space Technology
JAXA: Japan Aerospace Exploration Agency
LAPAN: Lembaga Penerbangan dan Antariksa Nasional
⁠JAIF: Japan-ASEAN Integration Fund
Project Leader:ISRO
Activities
Following activities are now ongoing
Data comparison between organizations
Application of validated products to rice crop outlook
Capacity building: Training of data usage
Data comparison between organizations
Inter-comparison or validation of space-based agromet information is imperative for accuracy improvements, interoperability or complementary use.Thus far, following 2 activates are undergoing in Agromet project.
Data comparison between ISRO and JAXA
Data comparison between GISTDA and JAXA
Agromet Data and Reports for comparison activities are available.

Application of validate products to rice crop outlook
Demonstrations of the practical usage to public authorities are planned using APRSAF/SAFE website and related service (SAFE Virtual Platform).
Capacity building
1) Training for Science based information sharing derived from Earth Observation Satellites for agriculture management in the ASEAN Region (2019 and 2021)
Training of data usage of Agromet products funded by Japan-ASEAN Integration Fund (JAIF) was conducted in 2019 and 2021 respectively. The main objective of the trainings is to improve the national capacities on the use of satellite data products developed by many agencies including Japan Aerospace Exploration Agency (JAXA), NASA, NOAA, Japan Meteorological Agency (JMA) of agriculture agencies of the ASEAN member states. It was expected that the knowledge gain through this project would help member states to use satellite data products for their national agriculture information management in practices. Furthermore, the knowledge gained through the project definitely contribute to the ASEAN food security information system (AFSIS), being an ASEAN initiative helping the region.
⁠Organizers:
  JAIF
⁠Supporters:
  LAPAN/MoA (proponent), JSF (Implementing Agency), JAXA (project supporter), GISTDA (Training Facility), RESTEC and AFSIS
Date and Venue:
1st Inception Workshop: June 27, 2019 at LAPAN, Indonesia
1st Training: 4-5 July 2019 at ARTSA Facility, GISDTA, Thailand
2nd Training: 24 November 2021, Online
⁠Main activities:
Develop User Guideline Document for use of agromet information from JASMIN system
Share implementation strategy and achievements in the Inception and Final Workshop
Conduct training courses for ASEAN-SCOSA and AFSIS
User Survey to evaluate the effectiveness of JASMIN system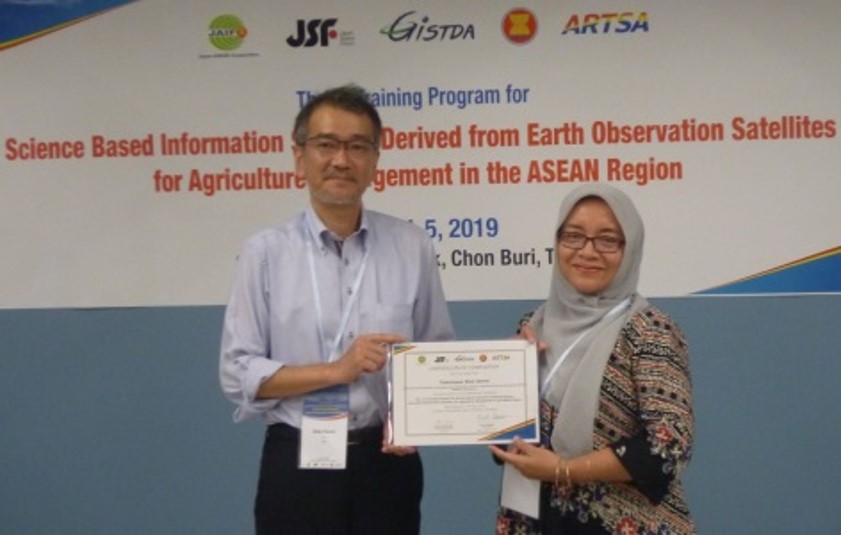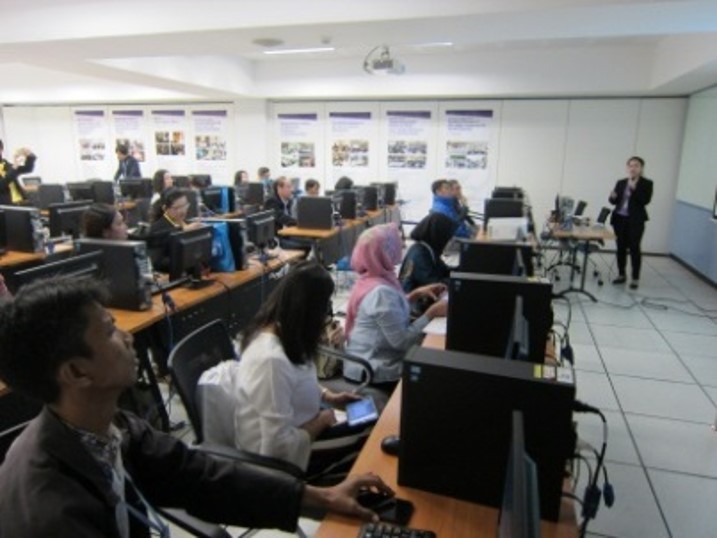 User Guidebook:
How to interpret JASMIN in Rice Growing Outlook, December 2021 (PDF Download: 2MB)
2) Training Program on "Satellite-Derived Agrometeorological Data for AFSIS's Rice Growing Outlook (RGO)" for Agriculture Management in the ASEAN (2022)
Under the Space Application on Environment (SAFE) project in cooperation with Indian Space Research Organization (ISRO) of India, Geo-Informatics and Space Technology Development Agency (GISTDA) of Thailand, and Japan Aerospace Exploration Agency (JAXA) Japan, the training was arranged as a virtual program on the 11th July 2022.
⁠Organizers:
  SAFE/ISRO, JAXA, GISTDA and AFSIS
Date and Venue:
  11 July 2022, Online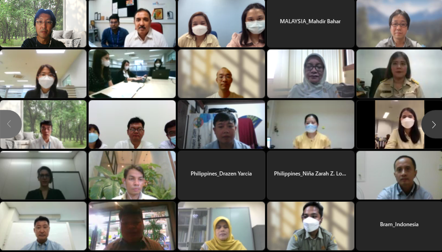 ⁠Main activities:
Participants from ASEAN learned the use of Indian Satellite derived agrometeorological information through the Meteorological & Oceanographic Satellite Data Archival Centre (MOSDAC) and Visualization of Earth Observation Data and Archival System (VEDAS) systems to improve the capabilities of satellite based products to solve the common problems in agriculture information system in each member state.
SAFE Overview, Agromet and Rice Mapping Projec
Demonstration of MOSDAC, Python and QGIS
Demonstration of VEDAS (including wide-area precipitation data)
Hands-on training for VEDAS
Presentation Materials:
Related Organizations
⁠ASEAN-SCOSA: ASEAN Sub-Committee on Space Technology and Applications
⁠AFSIS: ASEAN Food Security Information System
GISTDA: Geo-Infomatics and Space Technology
ISRO: Indian Space Research Organisation
JAIF: Japan-ASEAN Integration Fund
JAXA: Japan Aerospace Exploration Agency
JSF: Japan Space Forum
LAPAN: Lembaga Penerbangan dan Antariksa Nasional
RESTEC: Remote Sensing Technology Center of Japan