The PALSAR-2 aboard the ALOS-2 is a Synthetic Aperture Radar (SAR), which emits microwave and receives the reflection from the ground to acquire information. Since it does not need other sources of light such as the sun, SAR has the advantage of providing satellite images regardless day or night. The frequency of transmitting and receiving microwave is L-band, which is less affected by clouds and rains. This all-weather observing capability is suitable for monitoring disasters rapidly. In addition, L-band microwave can reach to the ground partially penetrating through vegetation to obtain information of vegetation and ground surface.
Japanese L-band SAR debuted aboard the JERS-1/SAR launched in 1992, and was inherited on the ALOS/PALSAR in 2006 then on the ALOS-2/PALSAR-2 from 2014. The PALSAR-2 became a unique and highly useful sensor achieving high-resolution, wide swath width and image quality (lower noise floor and the range ambiguities) by expanding its transmission power and bandwidth, and adopting new technologies such as dual-beam receivers, complex chirp modulations, and highly-efficient data compression.
ALOS-2/PALSAR-2 will have a spotlight mode (1m×3m resolution in azimuth×range direction), whilst ALOS/PALSAR has a 10 m resolution. It will allow comprehensive monitoring of disasters by providing users with more detailed data than ALOS/PALSAR. The observation repetition frequency of ALOS-2 was improved by expanding the observable range of the satellite up to about 3 times (from 870km to 2,320km), as well as giving ALOS-2 a right-and-left looking function, which was not available on ALOS.
PALSAR-2 Specifications
Observation
mode
Spotlight
Stripmap
ScanSAR
Ultrafine
[3m]
High sensitive
[6m]
Fine
[10m]
Normal
Wide
Bandwidth
(MHz)
84
84
42
28
14
28
14
Resolution
(m)
3×1
(Rg×Az)
3
6
10
100
(3 looks)
60
Incidence angle
(deg.)
8 - 70
8 - 70
8 - 70
20 - 40
8 - 70
23.7
8 - 70
8 - 70
Swath
(km)
25×25
(Rg×Az)
50
50
40
70
30
350
(5 scans)
490
(7 scans)
Polarization∗
SP
SP/DP
SP/DP/CP
FP
SP/DP/CP
FP
SP/DP
SP/DP
NESZ (dB)
-24
-24
-28
-25
-26
-23
-26
-23
-26
S/A
(dB)
Rg
25
25
23
23
25
20
25
25
20
Az
20
25
20
20
23
20
20
∗ SP: HH or HV or VV, DP: HH+HV or VV+VH, FP: HH+HV+VH+VV, CP: compact pol. (experimental)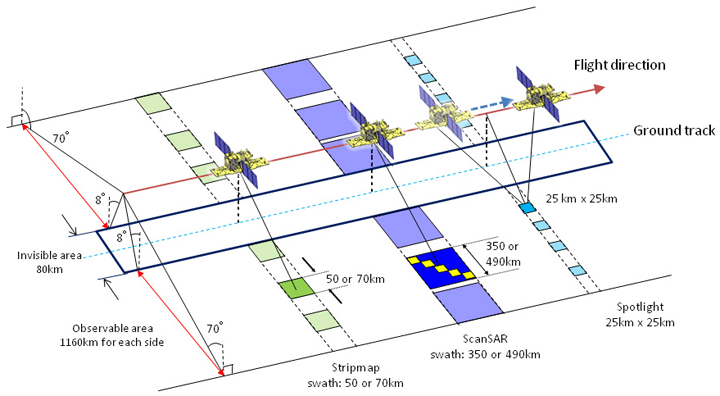 PALSAR-2 Observation mode