K&C Mosaic
1. Updates
| | |
| --- | --- |
| May 30, 2011 | The Africa, Arcticpole, Asia, Australia, N_America, S_America and Siberia of PALSAR 500m Browse Mosaic Product (CYCLE42) were added (More info). |
| May 18, 2011 | The Africa, Antarctica, Asia, Australia, Europe, Greenland, N_America, S_America and Siberia of PALSAR 500m Browse Mosaic Product (CYCLE41) were added (More info). |
| Apr. 12, 2011 | The N_America(Ascending FBS) of PALSAR 500m Browse Mosaic Product (CYCLE40) was added (More info). |
| Mar. 7, 2011 | The Africa, Antarctica, Asia, Australia, Europe, Greenland, N_America, S_America and Siberia of PALSAR 500m Browse Mosaic Product (CYCLE40) were added (More info). |
| Jan. 19, 2011 | The Africa, Antarctica, Arcticpole, Asia, Australia, Europe, Greenland, N_America, S_America and Siberia of PALSAR 500m Browse Mosaic Product (CYCLE39) were added (More info). |
| Dec. 10, 2010 | The Africa, Antarctica, Asia, Australia, Europe, Greenland, S_America and Siberia of PALSAR 500m Browse Mosaic Product (CYCLE38) were added (More info). |
| Nov. 12, 2010 | The Africa, Antarctica, Asia, Australia, Europe, Greenland and S_America of PALSAR 500m Browse Mosaic Product (CYCLE37) were added (More info). |
| Nov. 5, 2010 | The Africa, Antarctica, Asia, Australia, Europe, Greenland and S_America of PALSAR 500m Browse Mosaic Product (CYCLE36) were added (More info). |
| Oct. 29, 2010 | The Africa, Antarctica, Arcticpole, Asia, Australia, Europe, Greenland and S_America of PALSAR 500m Browse Mosaic Product (CYCLE35) were added (More info). |
| Oct. 22, 2010 | The Africa, Antarctica, Arcticpole, Asia, Australia, Europe, Greenland, N_America and S_America of PALSAR 500m Browse Mosaic Product (CYCLE34) were added (More info). |
| Oct. 15, 2010 | The Africa, Antarctica, Asia, Australia, Europe, Greenland, S_America and Siberia of PALSAR 500m Browse Mosaic Product (CYCLE33) were added (More info). |
| Mar. 16, 2010 | The Africa, Antarctica, Asia, Australia, Europe, Greenland, S_America and Siberia of PALSAR 500m Browse Mosaic Product (CYCLE32) were added (More info). |
| Feb. 9, 2010 | The Africa, Antarctica, Arcticpole, Asia, Australia, Europe, Greenland, N_America and S_America of PALSAR 500m Browse Mosaic Product (CYCLE31) were added (More info). |
| Feb. 1, 2010 | The Central Africa, Japan, Jawa, Sulawesi, Philippine, Indochina, Borneo and Sumatra of PALSAR 50m Orthorectified Mosaic Product were added (More info). |
| Jan. 19, 2010 | The Australia, Central Africa, Borneo and Sumatra of PALSAR 50m Orthorectified Mosaic Product were added (More info). |
| Dec. 14, 2009 | The Africa, Antarctica, Europe, Greenland, S_america, Asia, Siberia and Australia of PALSAR 500m Browse Mosaic Product (CYCLE30) were added (More info). |
| Oct. 29, 2009 | The Africa, Antarctica, Europe, Greenland, S_america, Asia, Siberia and Australia of PALSAR 500m Browse Mosaic Product (CYCLE29) were added (More info). |
| Oct. 20, 2009 | The Africa, Antarctica, Europe, Greenland, S_america, Asia, Siberia and Australia of PALSAR 500m Browse Mosaic Product (CYCLE25~28) were added (More info). |
| Apr. 24, 2009 | PALSAR 50m Orthorectified Mosaic Product and PALSAR 500m Browse Mosaic Product were added (More info). |
| Feb. 20, 2009 | The Japan, Indochina, Borneo, New Guinea, Solomon, Sulawesi and Sumatra of PALSAR 50m Orthorectified Mosaic Product were added. |
| Dec. 22, 2008 | The Borneo, New Guinea, Solomon, Sulawesi and Sumatra of PALSAR 50m Orthorectified Mosaic Product were added. |
| Dec. 11, 2008 | The Africa, Antarctica, Europe, Greenland, S_America, Asia and Australia of PALSAR 500m Browse Mosaic Product (CYCLE21) were added. |
| Nov. 28, 2008 | The indochina of PALSAR 50m Orthorectified Mosaic Product were added. |
| Oct. 3, 2008 | The Africa, Europe, S_America, Asia and Australia of PALSAR 500m Browse Mosaic Product (CYCLE17) were added. |
| Sep. 17, 2008 | The Africa, Antarctica, Europe, Greenland, N_America, S_America, Asia and Australia of PALSAR 500m Browse Mosaic Product(CYCLE20) were added. |
| Sep. 5, 2008 | The Header file format for mosaic product was uploaded. |
| Aug. 18, 2008 | The Antarctica, Europe, Greenland, N_America, S_America, Asia, Siberia and Australia of PALSAR 500m Browse Mosaic Product(CYCLE19) were added. |
| Aug. 15, 2008 | The philippine of PALSAR 50m Orthorectified Mosaic Product were added. |
| Jul. 14, 2008 | The Africa, Antarctica, Europe, Greenland, S_America, Asia, Siberia and Australia of PALSAR 500m Browse Mosaic Product(CYCLE18) were added. |
| Jul. 1, 2008 | K&C Mosaic Homepage was opened. |
| Jul. 1, 2008 | The borneo and sumatra, japan, newguinea, solomon, sulawesi of PALSAR 50m Orthorectified Mosaic Product were added. |
| Jul. 1, 2008 | The Africa and S_America of PALSAR 500m Browse Mosaic Product were added. |
2. Mosaic products
As the reference dataset by the ALOS Kyoto and Carbon Initiative Project, two products are being created, i.e.,
PALSAR 50m Orthorectified Mosaic Product.
PALSAR 500m Browse Mosaic Product.
Former product is created from the ascending path for dry and wet seasons or summer and winter seasons globally, and the latter is created as the quick look mosaic for visually checking the images acquired. Except for the resolution, both images can be converted to the normalized radar cross section in decibel. These images can be updated to this home page as they are created and they can be visualized by the following methods. The main purpose of the ALOS Kyoto and Carbon initiatives are to interpret the forest originated carbon quantity and its changes, and monitors the global land changes for forest, wetland, and desert area. Using this home page, the current earth environmetal change can be observed.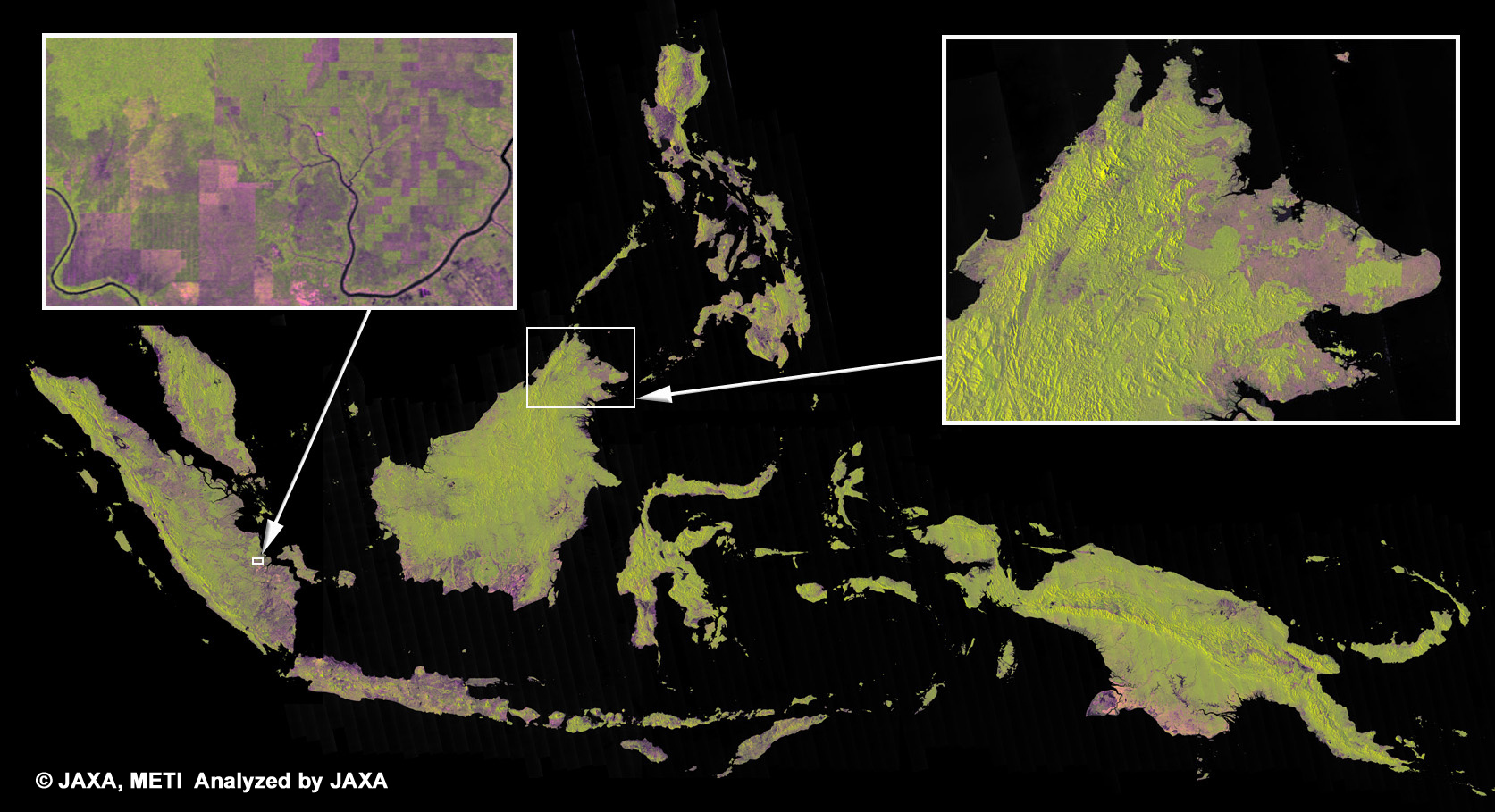 Fig. 1 PALSAR 50m Orthorectified Mosaic Image
Fig. 1 is example of the image. This is color composite of R= HH polarization, G=HV polarization, B=HH/HV polarization image. Greenish color shows a forest and purple color shows deforest or not a forest area.
3. Downloading products and browsing images
Data files (Raw format) and image files (PNG format) are available via each clickable map.
KML file is also available for browsing the mosaic image by using Google Earth or NASA World Wind.
This product covers over Asia and Oceania regions by mosaicing PALSAR data which is resampled into 50m*1 from original data. The product will be made once a year. Following observation mode is used for the product.
FBD 34.3 HH / HV*2
*1. Mosaic images are projected into geographical latitude and longitude coordinates. So the spatial resolution of 50m is corresponded to 1.6170 sec.
*2. HH and HV polarization data are kept in BSQ format. Color composition of the image data is R=HH, G=HV, B=HH/HV and enhanced.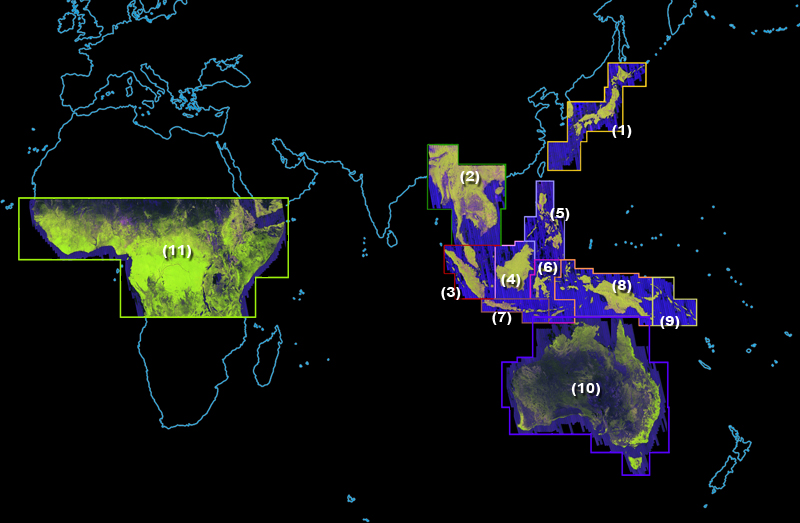 This product covers all over the world by mosaicing PALSAR data which is resampled into 500m from original data. The product will be made every cycle. Following observation modes are used to generate products.
FBS 34.3 HH
FBD 34.3 HH / HV
WB1 5beam HH
WB2 5beam HH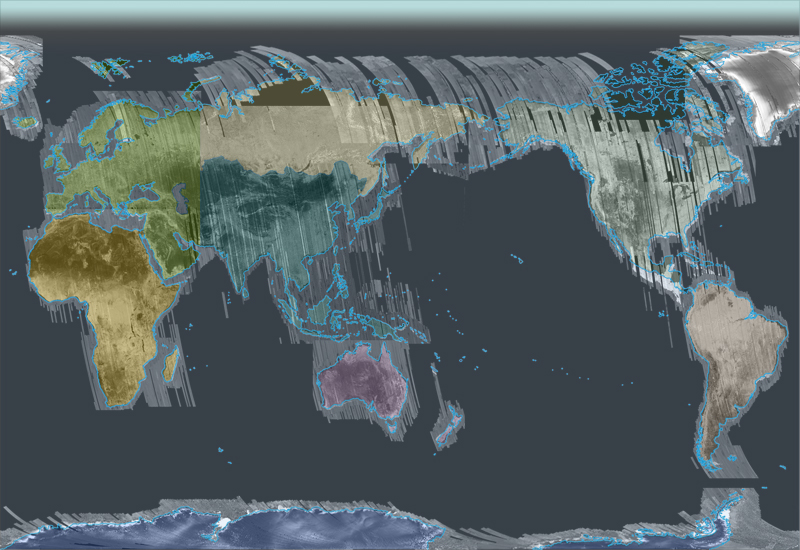 Notices
This product is available to use with no charge under the "Terms for Use".To publish images using the prooduct, please display "©JAXA, METI" in the image.