2020
Jun 4, 2020
EORC/JAXA
Release of the Global Precipitation Measurement (GPM) Dual-frequency Precipitation Radar (DPR) Experimental Product (version 06X)
JAXA and NASA have started to release the Global Precipitation Measurement (GPM) Dual-frequency Precipitation Radar (DPR) Experimental product (Version 06X). This data can be obtained after user registration on the "User Registration for GPM DPR Level 2 V06X Experimental product data" page.
This Version 06X is the first product to respond to the Ka-band Precipitation Radar (KaPR) scan pattern changes implemented on May 21, 2018. This change in scan pattern allows for a more accurate precipitation estimation method based on two types of precipitation information, Ku-band Precipitation radar (KuPR) and KaPR, to be applied to the entire observation swath.
On May 21, 2018, JAXA and NASA changed the scanning pattern of the KaPR as shown in Figure 1. KaPR High-Sensitivity (KaHS) beams shown as pink circles in Figure 1 scan in the inner swath before May 21 2018, but now they scan in the outer swath and match with KuPR's beams. For details of the changes, please see GPM/DPR Level-2 ATBD.

Figure 1. DPR's scan pattern before May 21 2018 (left) and after May 21 2018 (right). Numbers in color indicate angle bin numbers for KuPR (blue), KaPR Matched Scan (MS) (yellow), and KaPR High-Sensitivity (KaHS) (pink).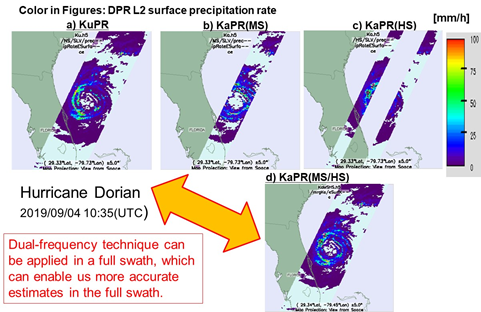 Figure 2: Hurricane Dorian observed by DPR at 10:35 (UTC) on 04 September 2019. a) KuPR, b) KaPR matched beam, c) KaPR high sensitivity beam, d) KaPR (the sum of b and c).
Figure 2 shows results of observations of Hurricane Dorian as observed by DPR at 10:35 (UTC) on 04 September 2019. According to the U.S. National Hurricane Center, Hurricane Dorian was the strongest hurricane to hit the northwestern Bahamas in modern records, resulting in numerous deaths and causing devastation on Great Abaco and Grand Bahama Islands, according to the U.S. Hurricane Center report.
On 04 September 2019 at 10:35 (UTC), Hurricane Dorian was located on the ocean east of the Florida peninsula, and the spiral structure of Hurricane Dorian can be seen over a wide area at KuPR (Figure 2a) with an observation width of 245 km. On the other hand, the KaPR (Figure 2b), which has an observation width of 125 km, has been able to observe only the center of the Hurricane Dorian. By combining the KaPR's high-sensitivity beam (Figure 2c) with a modified scan pattern, the KaPR was able to observe a 245-km observation range, and the spiral structure of the Hurricane Dorian was clearly visible with the KaPR, as shown in Figure 2d.
DPR's two types of precipitation radar observations have improved precipitation estimation accuracy and sensitivity by observing the same precipitation at two frequencies. Differences between KuPR and KaPR observations have enabled classification methods for various precipitation types, such as detecting solid precipitation, for example, hail and graupel. The change in the scan pattern implemented in May 2018 is expected to accelerate research results from these two types of precipitation radar observations.