About the GPM-TRMM Matchup Data List
Summary
The GPM-TRMM Matchup Data List aims to list points where observation time of the GPM Core Observatory and TRMM satellite matches, and to compare detected precipitations in match-up areas.
Match-up conditions of the TRMM satellite and GPM Core Observatory
Match-up points are defined that differences in distance between observation points of the GPM Core Observatory and TRMM satellite are within radius 200 km, and differences in observation time of those are within 10 minutes. Also, if a match-up point is located within radius 10 degree from the center of precipitation areas of DPR (KuPR), we defined this area as "Precipitation match-up area."
Usage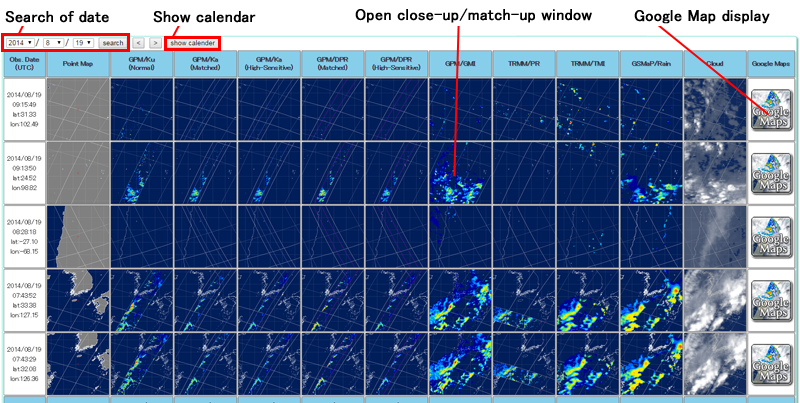 Search of date
List of match-up points in target date will be shown. If there are no match-up points in that day, no list is shown.
Calendar mode
Match-up points of the GPM Core Observatory and TRMM satellite do not exist every day, and terms that match-up points exist or not exist are periodically repeated. "Calendar mode" will help you to search the period when match-up points exist.
When you click "show calendar" button, calendar of selected year and month will be displayed in the center window. To dismiss the calendar, please click "show calendar" button again or click "close" button.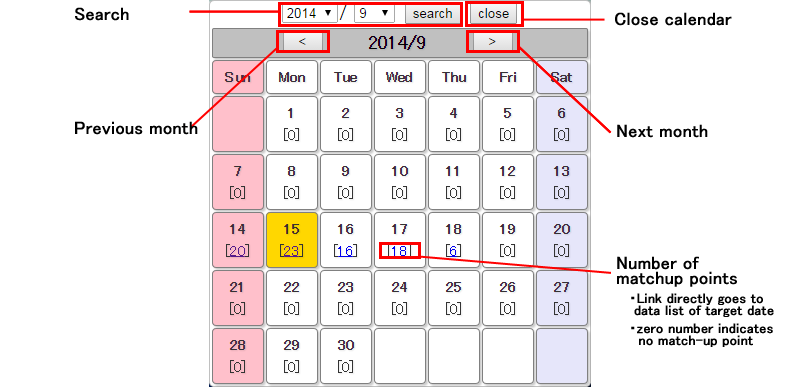 Numbers displayed under the day within calendar are number of match-up points existed in that day, and zero number indicates no match-up point. You can click the number if it is greater than zero, and link directly goes to data list of target date.
Close-up/match-up window
When you click the browse images listed, close-up/match-up window will open.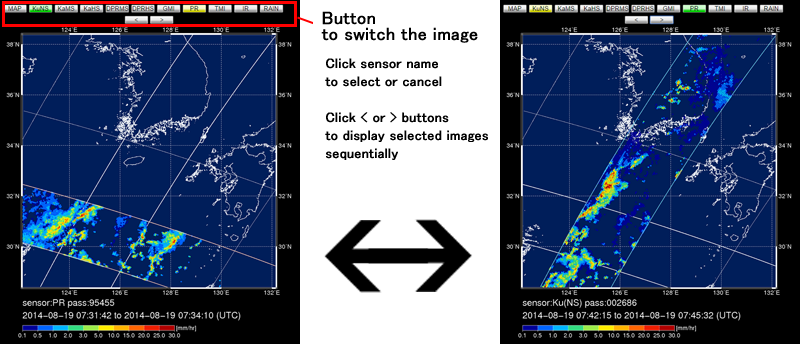 There are buttons to switch instruments displaying on the top of image. Yellow color indicates the image displaying. Green color indicates the image selected. When you click button, which is yellow or green, color of button becomes grey and selection is canceled.
After selecting several instruments, you can switch images sequentially by clicking button < or >. To show image in original size, please click image displaying.
Google Map display

To compare images od match-up point displaying using Google Maps, please click icon in far right row. Link goes to corresponding image in the GPM Near-Real-Time Monitor web site, and you can compare images of target area. See more details of the GPM Near-Real-Time Monitor from here.

Terms of Use of images
Please refer to "Terms of Use of Research Data" (https://earth.jaxa.jp/policy/en.html) for the use of images.