ALOS-2 images during the initial functional verification and
calibration/validation phases - Dubai
Japan Aerospace Exploration Agency (JAXA) is conducting the initial functional verification and calibration/validation (Cal/Val) of the Advanced Land Observing Satellite 2 (ALOS-2; Japanese name: "Daichi-2") launched in May 24, 2014 (JST). Data obtained by ALOS-2 are expected to contribute to the monitoring disasters, deforestation, sea ice in Okhotsk and polar regions, and many more.
Part of images taken by the Phased Array-type L-band Synthetic Aperture Radar 2 (PALSAR-2)*1 during the initial functional verification and Cal/Val phases will be uploaded at this website. This time, we introduce an image showing astonishing city of Dubai. The image was acquired with the single polarization Stripmap Fine mode (3 m resolution) at 32.4 degrees off-nadir angle in July 22, 2014 (JST).
*1: The PALSAR-2 is the only satellite-based synthetic aperture radar using the L-band frequency which is suitable for observing land deformation and the global environment. The PALSAR-2 can observe the earth's surface regardless of weather conditions and day/night.
---
The following images were obtained by using the test radio wave transmitted from the ALOS-2/PALSAR-2.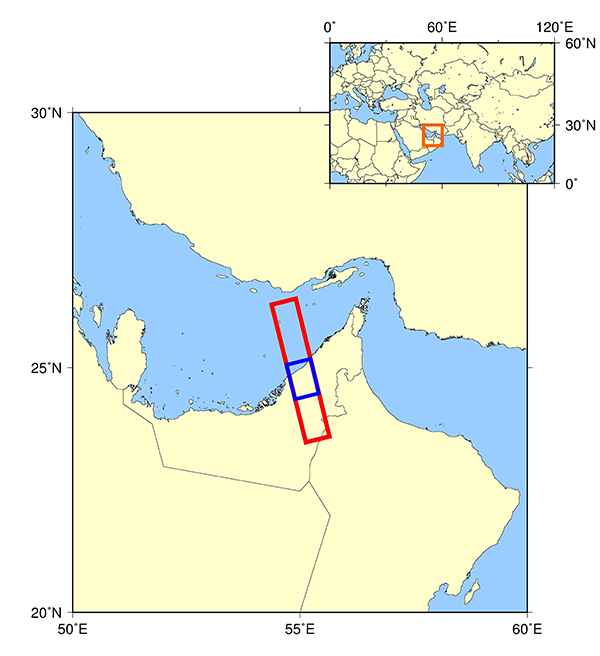 Figure 1. Data acquisition area
The red mark in Figure 1 shows the data acquisition area. The blue mark shows the image boundary of Figure 2, which covers Dubai city.
Dubai city located at Arabian Peninsula has highly characteristic landscapes resulting from the some artificial island projects. The detail views of artificial islands and mainland cityscape highlighted in red squares in Figure 2 are shown in Figures 3-6.
The World consists of more than 300 artificial islands, which can be observed as world map.
This Palm Jumeila is artificial islands conceptualized in the shape of Palm tree. Sixteen lands like branches from the part of palm stem, and they are surrounded by a crescent-shaped breakwater. The islands are a composed of leisure resort, residential, marina, and commercial constructions.
The Palm Jebel Ali is also designed as in similar concept as the Palm Jumeira shown in Figure 4. Despite similar shapes, there is a large difference in brightness detected from radar signals between the two images. The difference is due to the ground surface conditions. Generally, strong backscattering signals return from rough surfaces such as built structures, which make an image bright. In contrast, the relatively weak signals return from flat surfaces such as roads, which make an image dark.
Figure 6 shows Jumeira Village Circle forming a circular structure (the red box A) and the surrounding cityscapes. Such landscapes are typical and unseen in Japan.
Finally, these sites are compared with PALSAR data of former JAXA satellite (ALOS; "Daichi") in Figure 7.
Significant improvement in image quality of PALSAR-2 can be observed. In particular, the center of the circular structure of Jumeira Village Circle (A) and the densely lined residential area (B) become clearer and sharper.
© JAXA EORC