---
Rationale:
Over recent decades, significant changes in the extent and composition of mangroves in response to environmental change have been observed in mangrove ecosystems worldwide. With the predicted climate changes forecast for this century, including sea level rise, increasing temperatures and storm activity, acceleration in the natural processes of change may occur. Furthermore, direct clearance of mangroves and conversion of mangrove to other land uses, including in particular aquaculture, is occurring at an alarming rate and, in many cases, the extent of clearance is unknown.
These changes can take place over decades but can also be very rapid, and updated information on their change status is therefore required on a regular basis. For countries participating in the REDD+ scheme, reporting to the UNFCCC is required at least every two years.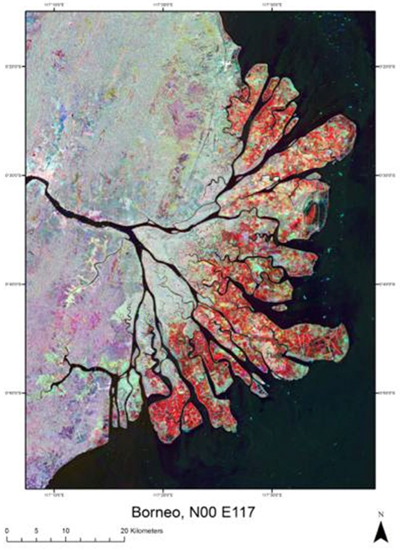 JERS-1 (1996) and ALOS PALSAR (2007, 2010) color composite of East Kalimantan (R:1996, B:2007, G:2010). The red areas have largely changed from mangrove forest in 1996 to aquaculture by 2007.
While cloud cover limits the use of optical satellite data in tropical and sub-tropical regions, Synthetic Aperture Radar sensors are particularly well suited for mangrove monitoring as SAR data can be acquired regardless of clouds, smoke and haze. The availability of consistent time-series of data is consequently of fundamental importance, and JAXA has as the sole SAR operating space agency developed and implemented systematic observation strategies for all its L-band SAR missions: the JERS-1 SAR provided consistent pan-tropical observations in the mid 1990s through the Global Rain Forest Mapping (GRFM) project, and ALOS featured the first global systematic acquisition strategy where PALSAR data over all land areas and coastal zones more than twice per year. ALOS-2 will be launched in late 2013 and a global systematic acquisition strategy is under development to assure L-band SAR continuity for 2014 and several years following.
Aims:
The Global Mangrove Watch is an international project, which was initiated in 2011, as part of JAXA's Kyoto and Carbon (K&C) Initiative and aims to:
Generate revised baseline maps of mangrove extent in the tropics and subtropics for 2010 and 2015.
Map changes relative to existing pan-tropical and subtropical mangrove baseline data sets using mid-1990's JERS-1 SAR data and ALOS PALSAR data acquired in 2007, 2008, 2009 and 2010. The primary baseline dataset is that generated by the USGS using Landsat sensor data for the (nominal) year 2000.
Undertake routine monitoring of mangroves post-2013 using ALOS-2 data.
Map associated changes in the structure (e.g., canopy height) and biomass of mangroves, as quantified using Shuttle Radar Topographic Mission (SRTM) and ICESAT GLAS data.
Provide validation of the products through reference to field and other remote sensing acquisitions for key sites worldwide.
Describe and understand the causes and consequences of change, whether natural or anthropogenic.
Contribute to the Ramsar Global Wetlands Observing System (GWOS).
Collaborators:
Apart from JAXA, the GMW involves institutions including Aberystwyth University (UK), NASA GSFC (USA), the Jet Propulsion Laboratory (US), Flora and Fauna International (Phillippines), Forest Research Institute of Malaysia, International Water Management Institute (Laos), soloEO (Japan), University of New South Wales and Queensland Herbarium (Australia), Vale Institute of Technology for Sustainable Development (Brazil), the Tropical Research Institute (Portugal) and Wageningen University (Holland).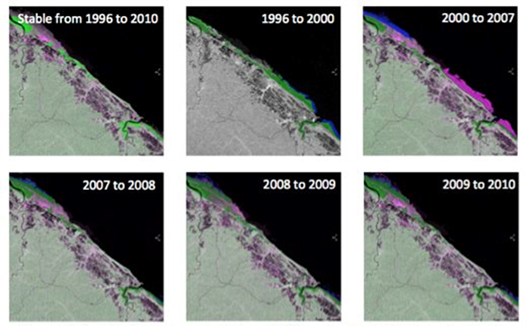 Changes in the extent of mangroves in French Guiana showing stable (green), advancing (blue) and retreating mangroves (red).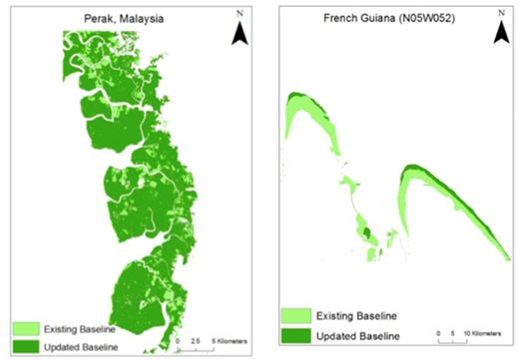 Baseline maps of mangrove extent for 2010 derived from ALOS PALSAR data, revised from the USGS map of 2000 for two tropical sites in Malaysia and French Guiana.
Contact points
Dr. Ake Rosenqvist, K&C Science Coordinator
solo Earth Observation (soloEO)
TTT Mid-Tower, Kachidoki 6-3-2-5006
Chuo-ku, Tokyo 104-0054, Japan
Email:
Prof. Richard Lucas (GMW Coordinator)
Institute of Geography and Earth Sciences
Aberystwyth University
Aberystwyth, Ceredigion
SY23 3DB Wales, UK
Email:
Dr. Lisa Maria Rebelo (K&C Wetlands Theme Coordinator)
International Water Management Institute (IWMI)
P.O.Box 4199
Ventiane, Lao DPR
Email: