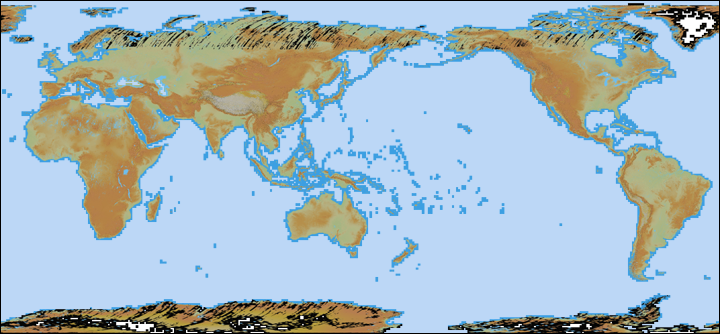 Thumbnails of AW3D30 DSM Ver.1.1 (As of March 2017. Black areas: masked out due to cloud cover)
To click the thumbnail image, you can zoom in/out in another browser.
1. Introduction
The Japan Aerospace Exploration Agency (JAXA) releases the global digital surface model (DSM) dataset with a horizontal resolution of approx. 30-meter mesh (1 arcsec) free of charge. The dataset has been compiled with images acquired by the Advanced Land Observing Satellite "DAICHI" (ALOS).
The dataset is published based on the DSM dataset (5-meter mesh version) of the "World 3D Topographic Data", which is the most precise global-scale elevation data at this time, and its elevation precision is also at a world-leading level as a 30-meter mesh version. This dataset is expected to be useful for scientific research, education, as well as the private service sector that uses geospatial information.
2. Release History
May and October 2015: Japan and a part of individual continent released as Beta Version (Total 7,279 tiles).
April 2016: Version 1 covering Japan and a part of individual continent released (Total 7,278 tiles).
May 2016: Global terrestrial region (within approx. 82 deg. of N/S latitudes) of Version 1 released (approx. 22,100 tiles).
March 2017: Update with void-filled DSM within 60 deg. of N/S latitudes as Version 1.1 [Updated]

- Void pixels due to clouds and snow pixels within 60 deg. of north and south latitudes in Version 1 were complemented by existing DEMs. Out of the areas are same with Version 1 product.
The latest version can be downloaded by following instruction.
We will try to improve the accuracy as well as quality of the AW3D30 product continuously, and release it as the updated version in the future.
3. Descriptions of the AW3D30 DSM dataset
Resolution:
1 arcsec (approx. 30m mesh) containing 1 deg. lat/long tile.
Height accuracy:
5 meters as standard deviation (1 sigma)
Composition:
DSM (Height above sea level, signed 16bit GeoTIFF) The calculated elevation value by average (AVE) and median (MED) when resampling from 5-meter mesh version. The nearest neighbor (NN) is considered in next version)
Mask information file (8bit GeoTIFF)
Stacked number file (8bit GeoTIFF, DN=number of stacking)
Quality assurance Information (ASCII text, add information for 1 arcsec product to original 5-m mesh DSM information)
Header file (ASCII text)
New mask values have been defined to release Version 1.1 product. Please refer to "Product Format Description Ver.1.1" for the details of dataset (PDF format, 309KB).
Some validation results could be find in "References".
4. Download
Please confirm processing status and qualities i.e. clouds by "Thumbnail of publishing AW3D30" on the top for your area of interests. The published area will be expanding to all over the world near future.
Please register your information from following URL to download the dataset. It is required your e-mail address.
http://www.eorc.jaxa.jp/ALOS/en/aw3d30/registration.htm
This is temporally registration and will send e-mail you to accept your registration request. After the confirmation of your request, the download information will send by e-mail.
The dataset download site is
http://www.eorc.jaxa.jp/ALOS/en/aw3d30/data/index.htm
5. Terms of Use for ALOS Global Digital Surface Model (AW3D30)
(Updated on March 6, 2017)
This dataset is available to use with no charge under the following conditions.
 When the user provide or publish the products and services to a third party using this dataset, it is necessary to display that the original data is provided by JAXA.
 You are kindly requested to show the copyright (© JAXA) and the source of data When you publish the fruits using this dataset.
 JAXA does not guarantee the quality and reliability of this dataset and JAXA assume no responsibility whatsoever for any direct or indirect damage and loss caused by use of this dataset. Also, JAXA will not be responsible for any damages of users due to changing, deleting or terminating the provision of this dataset.
JAXA handles the personal information such as names and e-mail addresses in accordance with JAXA's rules on protection of personal information. For details, please refer to "Privacy Policy" in the JAXA's site; (http://global.jaxa.jp/policy.html).
It is very grateful if you can send some published results, or any comments to , for our future guidance.
6. Contact
ALOS Science Project
Earth Observation Research Center (EORC)
Japan Aerospace Exploration Agency (JAXA)
E-mail:

* Please contact us in English or Japanese.
T. Tadono, H. Ishida, F. Oda, S. Naito, K. Minakawa, H. Iwamoto : Precise Global DEM Generation By ALOS PRISM, ISPRS Annals of the Photogrammetry, Remote Sensing and Spatial Information Sciences, Vol.II-4, pp.71-76, 2014.
>> PDF file
J. Takaku, T. Tadono, K. Tsutsui : Generation of High Resolution Global DSM from ALOS PRISM, The International Archives of the Photogrammetry, Remote Sensing and Spatial Information Sciences, Vol. XL-4, pp.243-248, ISPRS, 2014.
>> PDF file
J. Takaku, T. Tadono, K. Tsutsui, M. Ichikawa : Validation of 'AW3D' Global DSM Generated from ALOS PRISM, ISPRS Annals of the Photogrammetry, Remote Sensing and Spatial Information Sciences, Vol.III-4, pp.25-31, 2016.
>> PDF file
T. Tadono, H. Nagai, H. Ishida, F. Oda, S. Naito, K. Minakawa, H. Iwamoto : Initial Validation of the 30 m-mesh Global Digital Surface Model Generated by ALOS PRISM, The International Archives of the Photogrammetry, Remote Sensing and Spatial Information Sciences, ISPRS, Vol. XLI-B4, pp.157-162, 2016.
>> PDF file